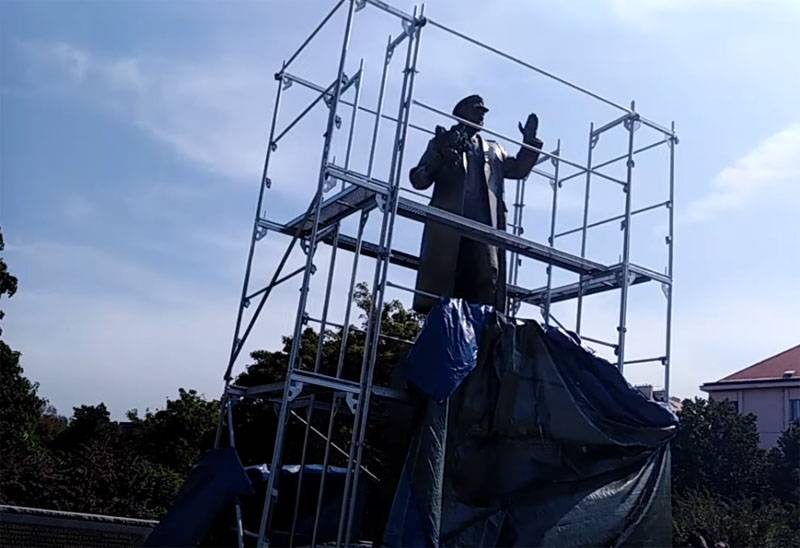 Demolition of monuments to Soviet soldiers-liberators, acts of vandalism in relation to monuments and military graves are already becoming something everyday for the countries of Eastern Europe. Baltic States, Poland, Bulgaria, Ukraine, now the Czech Republic. And in any of these cases, the set of arguments is small: if the act of vandalism, then "the police understand" (while the investigated cases are less than 1 percent), if the demolition of the monument was initiated by the authorities, then "this is our internal decision, it's not your business, do not intervene in our internal affairs. "
And judging by how events are developing, the case is really "not ours". Russia does not allow itself an adequate response to impudent acts. Even the standard tool of modern punishment in the form of sanctions is "not ours". Our everything for today is a note of protest, a speech on an unknown Facebook page. Well, well ... After all, if you really take action, then the partners can be offended. Kolarzh and Novotny, all right, will threaten with a finger. And some European MP will raise the issue already in the European Parliament! ..
The question arises: what is happening to us? Well, the latitude of the soul can not be called. Some kind of toothlessness, spinelessness, apathy. Indeed, in Eastern Europe, not so much statues and plaques are dismantled, they dismantle our sense of pride, self-esteem. If you pay for this with an exclusively non-binding note of protest, then there is an opinion that all this will continue further - what is called a war to the last monument.
Of course, there are many people who say that, they say, it's not an ordinary people doing such vile things, they say, all the local authorities there. Ordinary people, they say, actually value us, love, respect us. But somewhere very deep in the soul. So, he doesn't give a damn about dismantling the monuments, because he's busy with his own affairs.
But what about Russia from this? Marshal Konev is not on the pedestal. And this means that new generations of Czechs will no longer have a question, so who is this man in a military overcoat and with a bouquet of lilacs in his hands, who has a monument in their hometown. No memory no
stories
, there's no understanding of what these people would have lived today if not for this man with a bouquet of lilacs ... Minus Konev, minus Chernyakhovsky, minus Bronze soldier, minus, minus, minus ...
Perhaps the reason is that while in Eastern Europe they erected monuments to the soldiers-liberators, in Western Europe they erected a dollar on a pedestal, a happy life on credit. This is where we allow ourselves to "write off debts" on friendship "from the shoulder of the master." The West asks for every cent, for every crumb issued on credit. Try not to pay! And it is precisely this pedestal with the imposed worship of the "American Dream" today that leads to the fact that our values ​​are overthrown from pedestals. And if we don't answer this, how should we answer, then in reality our values, at least with regard to the memory of our ancestors, have remained unchanged? Or are we simply afraid to admit even to ourselves that this is no longer the case? ..