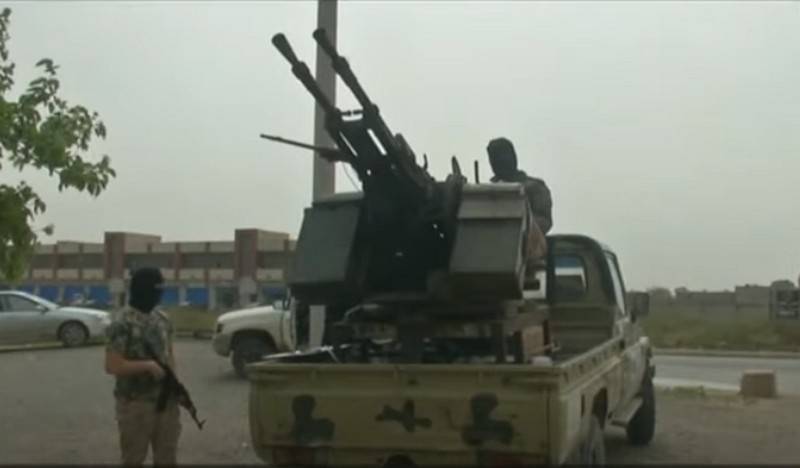 Despite the unilateral ceasefire declared by the Libyan National Army, hostilities in Libya do not stop. According to Sky News - Arabia, on Wednesday, May 6, 2020, combat
aviation
Khalifa Haftar's LNA inflicted a series of attacks on Syrian mercenary positions and the Turkish command headquarters in Misurata.
According to the report, combat aircraft belonging to the LNA attacked the Aviation College in Misurat, 200 km east of Tripoli. The college building is a stronghold of mercenaries transported by Ankara from Syria to Libya. In addition, the headquarters of the Turkish group is located there. During the raid, a strike was also struck at the arsenal and ammunition depot located nearby.
According to information provided by the LNA press service, during a raid from a direct hit, the ammunition in the warehouse detonated, and several Turkish soldiers were killed and one officer of the Qatar army was wounded. The Turkish side does not comment on this statement.
In turn, the LNA spokesman, Major General Ahmed al-Mismari, said that in the course of repelling an attack by the PNS forces on the El-Batuy airbase 100 km from Tripoli, the enemy suffered "significant losses" in personnel and armored vehicles. The LNA units defending the base lost eight people dead. No injuries were reported.
Also, in the LNA they promised an early return of Tripoli under the control of the Haftar army.
I say to the Libyan people: wait for pleasant surprises starting from tonight. I do not want to disclose more yet
- said al-Masmari.