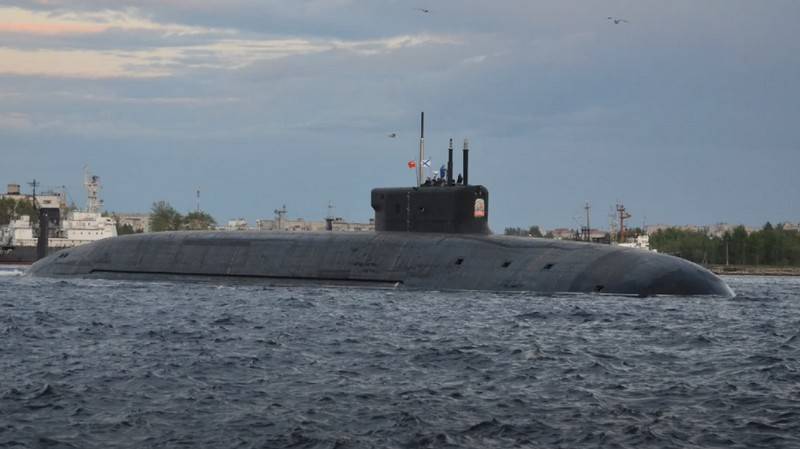 Nuclear submarine strategic missile cruiser of project 955A (code "Borey-A") "Prince Vladimir", who completed state tests, can be transferred to the Naval
fleet
RF at the end of May. This was reported by TASS with reference to a source in the military-industrial complex.
According to the source, the nuclear submarine cruiser is completely ready for transfer, the issue of the date of delivery of the submarine to the customer is currently being resolved.
The cruiser is prepared by the Sevmash shipbuilders for transfer. The issue of date is being resolved. It can happen at the end of May.
- said the source.
It should be noted that this is the fourth or fifth new date for the transfer of the submarine to the customer. The reasons for the constant shift "to the right" are not announced, the last date was called April. At the same time, neither the press service of the Russian Navy, nor Sevmash, where Prince Vladimir is located, comment on the deadlines for the submarine cruiser. It can be assumed that the timing of submarine delivery is also affected by the spread of coronavirus, which forced the company to switch to a special work schedule.
Earlier it was reported that after the tests of the APKSN "Prince Vladimir" was sent to Sevmash to correct the identified shortcomings. In March of this year, information appeared that the cruiser is fully ready for transfer and its commissioning will take place before May 9.
Strategic nuclear project "Prince Vladimir" of the modified 955A Borey-A project was laid down at Sevmash in Severodvinsk on 30 on July 2012 of the year, and the conclusion from the workshop took place on November 17 of 2017 of the year. The Borey-A project is distinguished by less noise, more advanced systems of maneuvering and retention at depth, as well as control
weapons
.
Currently, four more serial ARPKSNs of this project 955A are under construction at Prince Oleg (officially laid down on July 27, 2014), Generalissimus Suvorov (laid down on December 26, 2014), and Emperor Alexander III (laid down on December 18, 2015 years) and "Prince Pozharsky" (laid down December 23, 2016).
To date, the Navy has three 955th-generation nuclear missile submarines of Project 4 (Borey), strategic missile cruisers Yuri Dolgoruky, Alexander Nevsky and Vladimir Monomakh.