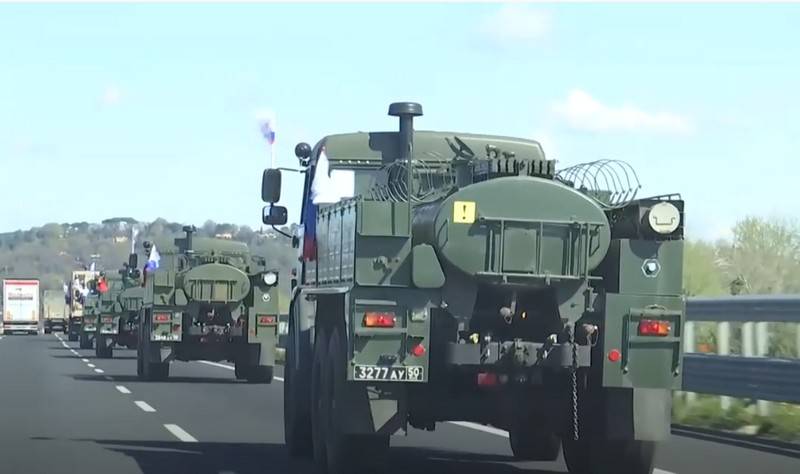 The Ministry of Defense decided to withdraw from Italy the radiation, chemical and biological protection units of the Russian Chemical Safety Base). The corresponding instruction was given by Russian Minister of Defense Sergey Shoigu.
Speaking at a conference call in the Ministry of Defense, the head of the military department said that on Thursday, i.e. May 7, the withdrawal from Italy of RCHBZ units will begin, assisting the Italian military in the fight against coronavirus. Shoigu instructed the Chief of the General Staff of the RF Armed Forces Valery Gerasimov to organize a solemn meeting of the combined detachments.
Tomorrow we begin the withdrawal of RHB protection units from Italy
- said the Minister, adding that it is necessary to prepare lists of military personnel, doctors and all those who have especially distinguished themselves for awarding and encouraging them on the basis of a business trip.
Nothing has been reported on the withdrawal of military doctors, it is likely that they will continue to provide assistance to the Italians, if only the withdrawal of the "Russian Chemical Forces Safety Depot" to the Ministry of Defense did not mean the withdrawal of the entire Russian group.
As previously reported, Russia sent to Italy one of the fifteen laboratories of the Russian Chemical Forces Army, eight medical teams, about 100 military virologists and epidemiologists, and special equipment for diagnosis and disinfection. In total, the Russian military in the Italian province of Lombardy carried out the disinfection and sanitization of medical institutions in almost 100 settlements.