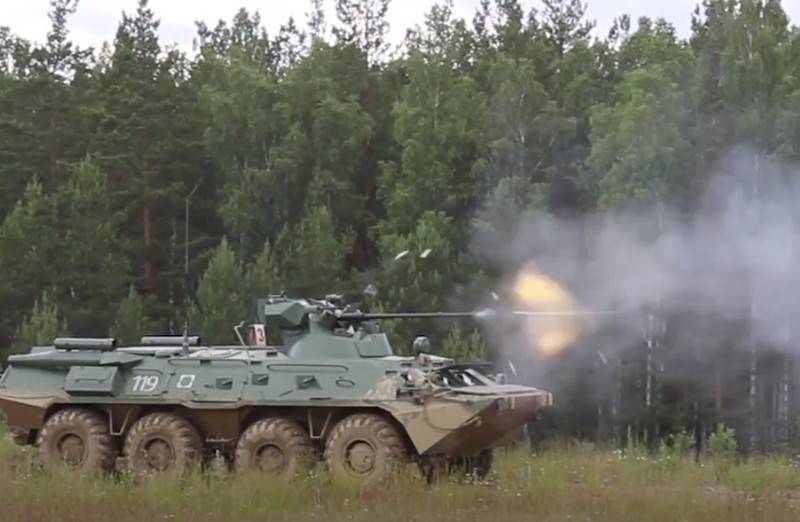 By the end of this year, ground forces will receive over 460 new and modernized armored personnel carriers as part of the state defense order. This was reported by the press service of the Ministry of Defense.
The military department stressed that it is expected to supply armored vehicles with "improved combat and running characteristics." Modern armored personnel carriers BTR-82A and modernized BTR-82AM will be delivered to the SV. In total, it is planned to supply more than 460 armored personnel carriers to the troops.
Until the end of this year, the delivery of more than 460 modern armored personnel carriers BTR-82A and modernized BTR-82AM to the Ground Forces units has been planned. They are designed to transport units, their fire support in battle, as well as to destroy manpower, anti-tank weapons and lightly armored enemy vehicles
- said in a statement.
It is clarified that the BTR-82A and BTR-82AM use anti-shatter protection from multilayer synthetic material on the inner surfaces of the body, as well as anti-mine flooring. In addition, the seats in armored personnel carriers are made on a special suspension. The BTR is armed with a new combat module with an automatic gun 2A72 30-mm caliber and a 7,62-mm PKTM machine gun.
BTR-82AM - a combat wheeled floating vehicle for transporting motorized rifle units, marine units, capable of providing fire support on the battlefield. BTR-82AM is a deep modernization of the BTR-80 and adopted by the Russian army in 2013.