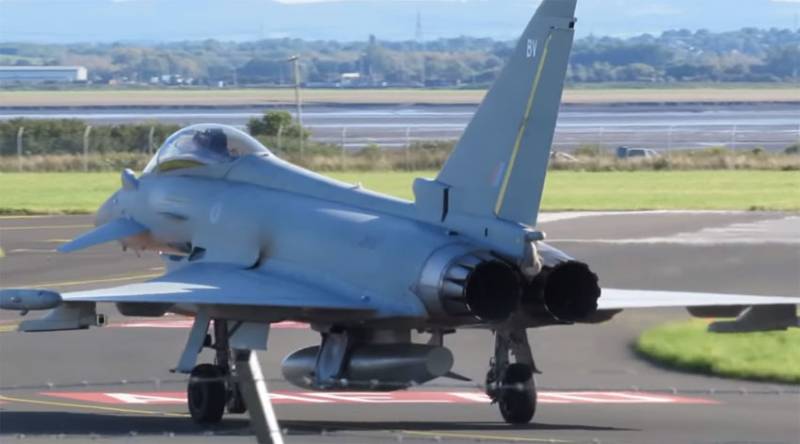 The other day, Military Review published material reporting the transfer of 150 British troops and several Typhoon fighters to an airfield in Siauliai, Lithuania. The transfer was carried out, recall, as part of the implementation of the Air Police program, according to which the Baltic countries, as NATO informs, "are protected from possible aggression." Often in this sentence the term "Russian aggression" is used.
The number of British military in the Baltic is already about 1 thousand people.
How do Russia react to the activities of the North Atlantic bloc, to the transfer of Typhoons to the Russian borders?
Anatoly Knyshov, a test pilot, Hero of Russia, members of the Supreme Council of the Strong Russia organization, made his commentary on this subject specifically for Military Review:
Enhancing the enemy at our borders is coming from virtually all sides. This is not only the NATO Baltic, it is also Ukraine, which NATO is pulling into its direct influence. While the whole world is fighting a pandemic, NATO continues to work. And this work - and provocations on our borders. There, you see, St. Petersburg is close at hand, and Moscow is not so far away. Therefore, we need to protect ourselves. How? Continue to prepare, conduct their exercises and continue to monitor any movement of them so that they can respond in a matter of minutes to any threat on their part.
Commented on the issue of NATO activities on the eastern flank of the alliance, Yuri Sytnik, honored pilot of the Russian Federation, member of the council of senior officers of the public organization "Officers of Russia".
According to Yuri Sytnik, the appearance of the Typhoons in Lithuania is also a great opportunity for Russian pilots to work out the interceptions of NATO aircraft over the Baltic:
Let them see what our beautiful Su-30, Su-35, and Su-57 planes are capable of, which will very soon begin to be mass-produced in the Russian Air Force.
Yuri Sytnik:
And by and large, the Baltics for them was and remains a place from where you can try to annoy Russia. They're already transferring there and
tank
units, and
Aviation
, fulfill the landing. This is an escalation of horror, a military situation. But we do not sit still. Our Tu-160, Tu-22M3 fly over Denmark, Norway, and Great Britain. They see our planes at their borders, well, therefore, as if "in revenge" they place their closer to our borders. And what kind of conflict can we have with the Baltic states? These are poor countries, they have neither hydrocarbons, nor technologies. What should we do in this Baltic? Our task is to maintain our own security in the region at the proper level, so that no one has a desire to translate their territorial claims against Russia into reality.