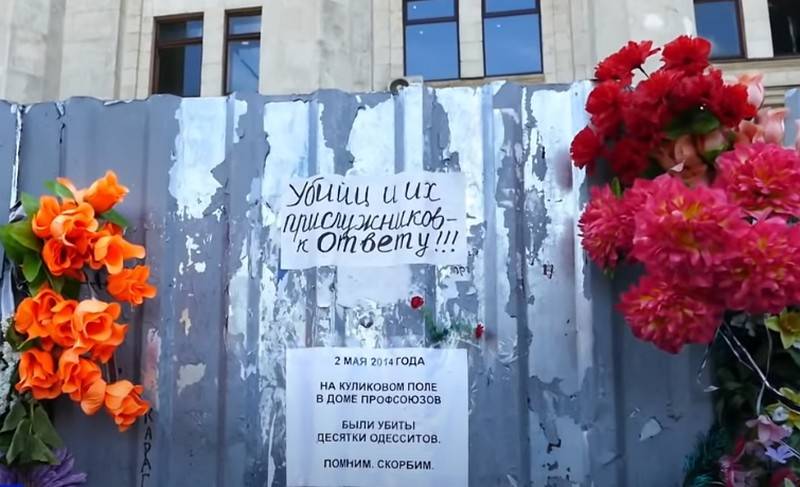 Ukraine accused Russia of "lack of interest in establishing an objective picture of the fire in the Odessa House of Trade Unions in 2014." The corresponding statement was circulated by the Ukrainian Foreign Ministry.
A statement released by the Ukrainian Foreign Ministry said that "the Foreign Ministry regrets the hypocrisy of Russian propaganda" on the sixth anniversary of the tragedy, which killed 48 people. It is argued that Russia is the only country in the world that "is clearly not interested in establishing the objective causes of the tragedy."
Russia (...) never mentions the bloody events in the city center that preceded the fire in the House of Trade Unions. Also, the established facts of internal fires in the House of Trade Unions, as well as the rescue of participants in a demonstration for the unity of Ukraine blocked in the House of Trade Unions covered by fire
- said in a statement.
In addition, Kiev accuses Russia of refusing to extradite and grant Russian citizenship to the former deputy chief of the Main Directorate of the Ministry of Internal Affairs of the Odessa Region, Dmitry Fuchedzha, who is undergoing proceedings.
Note that this is not the first statement of this kind made in the direction of Russia. Instead of engaging in a real investigation of the tragedy that claimed the lives of 48 people, the Ukrainian authorities continue to look for those responsible on the side. Last year, Kiev accused Moscow of "delaying the investigation of the tragedy." In turn, the Russian Foreign Ministry has repeatedly stated Kiev's unwillingness to investigate the tragedy and called on international organizations to obtain an objective investigation from the Ukrainian authorities.