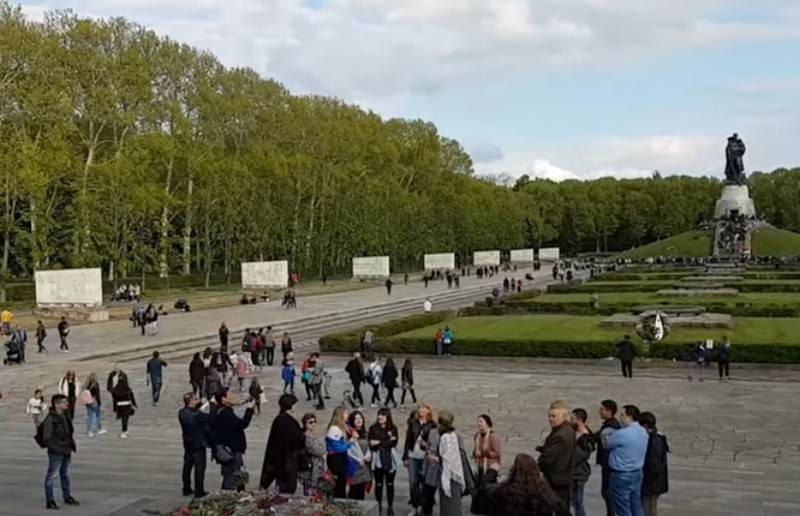 The Ambassador of Ukraine to Germany Andriy Melnyk refused to honor the memory of the victims of World War II in the presence of the mayor of Berlin and the ambassadors of Russia and Belarus. It is reported by the German newspaper Der Tagesspiegel.
According to the publication, the mayor of Berlin, Michael Mueller, planned, together with representatives of Russia, Ukraine and Belarus, to lay a wreath in memory of the end of World War II, but the Ukrainian ambassador Andrei Melnik refused to participate in the planned celebrations. According to the Ukrainian diplomat, he appreciates the invitation, as it says "about the recognition of the indisputable contribution of the Ukrainian people in the liberation of Europe from fascism", but will not participate in the event, since the ambassador of the "aggressor country" will participate in it.
Even in the worst nightmare, I can't imagine that I lay wreaths on the side of representatives of a country that has been cynically waging a bloody war in eastern Ukraine for more than six years. To date, over 14 thousand Ukrainians have been killed during the still ongoing Russian aggression. Every day and every night my compatriots are wounded and killed
- He said, adding that a joint respect for memory is unthinkable and the mayor of Berlin should know about it.
At the same time, Melnik said that in Germany, more attention should be paid to the Ukrainian victims of Nazism and called on the Berlin authorities to erect a monument to them.
Therefore, I urge the Bundestag and the Senate of Berlin to erect a monument to the Ukrainian victims of Nazism in a prominent place in the center of the capital, as well as create an appropriate information bureau
- demanded the Ukrainian ambassador.
The publication recalls that because of the war in the Donbass in Berlin for five years no joint Russian-Ukrainian celebrations have been held. Russia traditionally celebrates Victory Day on May 9, and Ukraine on May 8, as is customary in the USA and Europe.