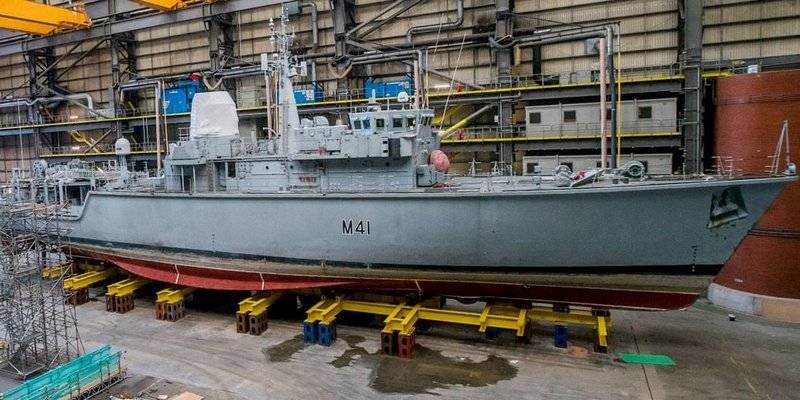 Lithuanian naval forces will soon be replenished with a new ship. As the press service of the Ministry of Defense of Great Britain informs, the Lithuanian military department bought the Royal Equipment withdrawn in December 2017
fleet
Hunting minesweeper M 41 Quorn.
The Ministry of Defense of Lithuania purchased a decommissioned minesweeper M 41 Quorn from the Hunt type from the UK. It will become the third ship of this type in the Lithuanian Navy. The transaction was conducted through the agency for the sale of military property of the British Ministry of Defense, the cost of the minesweeper amounted to 1 million pounds. It is clarified that the cost of disposal of the ship would be 750 thousand pounds.
Before the transfer, the minesweeper will undergo repairs and modernization, which, most likely, will take place at British enterprises. Currently, a tender has been announced "for predominantly British companies" to carry out ship repairs. It is assumed that the minesweeper will join the Lithuanian Navy in two years.
According to the bmpd blog, in 2008 Lithuania acquired from the United Kingdom two similar minesweepers of the Hunt type, also withdrawn from the fleet. In 2011, they became part of the Lithuanian Navy as the M 53 Skalvis and M 54 Kuršis.
In total, from the period from 1980 to 1989, 13 Hunt type minesweepers were introduced into the British Navy. The standard displacement of ships is 762 tons, length - 60 meters, width - 9,8 meters, draft - 2,2 meters. The power plant - two Napier Deltic diesel engines, cruising speed - 15 knots, range - 1500 miles at 12 knots. The crew - 45 people, including 6 officers.