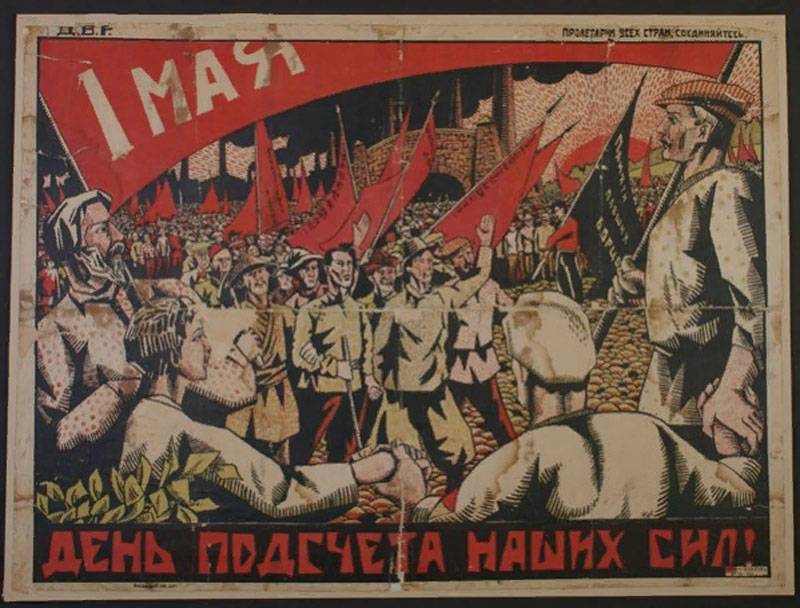 Some strange day today. May Day ... The day when there was a holiday since childhood. Under the Soviet Union, music sounded in the morning, neighbors gathered, neighbors neighbors, we, small, but omnipresent. Then on foot they all went to the demonstration. With accordions, with balls and paper flowers. Quite small "went to demonstrate" on my father's neck. And there was a holiday.
With the departure of the USSR, the holiday has changed. Almost no one went to meetings and demonstrations. We got out of town for the May Day. And again there was a holiday. A holiday of meeting with friends. The holiday started almost summer. Not a calendar summer, human. With kebabs, carp from a nearby fire pond, with mushrooms, trips to the beach ... With everything that actually makes up human life.
And then came May Day 2020. SMSs, congratulations on the phone, conversations with neighbors from the balcony and a TV with a little boring, but such good Soviet films. Quarantine ... And the only bright spot in this quarantine for me personally is the opportunity to go to the store. Wander between the windows, buy some, often unnecessary, a trifle and walk along the street. Automatically observing this same social distance.
Today I already went to the store ...
And you know, returned with an almost festive mood. No, not posters or balls raised this very mood for me. Not even the dressiness of some sellers. No. The mood was raised by a guy who was distributing ... masks at the entrance to the room. Ordinary masks, which in our city are only worn in shops or public transport. And even that, including me, is not all.
"Hello! Congratulations on May Day. I wish you happiness and health. Take the mask "... Quite official words of a young guy who either earns as he can or volunteers. Not important. And somehow they did not touch my heart. Probably I watch too much TV with speeches of officials on state assistance.
But then, already being a full-fledged buyer, some kind of anti-state thought arose in my head. Interestingly, yesterday and before the state did not have money for "gift" masks, but where did they come from today? And so this thought drilled my brain that I could not stand it and asked the boy where did these masks come from?
"Yes, our master came up with it. We sell milk here. So he bought a box of masks and said that everyone should be congratulated on the holiday, who comes to the store! It turned out that the generous owner is just a farmer from the region. And he has only three such trays in the district. And the earnings are not very high. But he took and made a holiday for people. Moreover, he warned the boy not to shout at every corner about this action.
New psychology
Don't you think that coronavirus was psychologically necessary for us? To all of us. It is necessary, as it happens, excuse me, catastrophe, war, natural disaster are necessary. It is necessary when for good food, a warm and large apartment, the ability to hit the road to Turkey or Egypt on the beach and other amenities, we stop being human. We are no longer human!
Five or six years ago, I witnessed the death of a man. Just a man walked and fell. And no one, but I saw death far enough, I repeat, no one came up and asked what happened. Moreover, already when we realized that the man was dead, I heard from one well-dressed lady: "They will get drunk like pigs and roll under their feet" ...
And yesterday I saw a completely different picture. I often write about "Heroes are not you ...", but yesterday I was proud for our youth, for students of our technical university. An old woman with a cane was walking somewhere or somewhere. Probably tired. I leaned against the wall and stands. And then, literally within a few seconds, two guys and a girl stopped near her. Help stopped ...
I know several businessmen who donated decent amounts to fight Covid-19. So, for the nerves of our liberals, I'll say about one media person. The same "Kremlin propagandist", who is already convicted of all the sins of the world, Vladimir Solovyov transferred "far more than a million" to the fund to fight against coronavirus. Those who we often see in his programs have done the same ...
I know hard workers who transferred the same salary there for one day of work. We even have such a movement in enterprises. One day we are working to dress all the doctors in new protective suits and other protective equipment.
I know, I see daily, girls and boys, who are carrying packages of food to the elderly. What's there, I'm calling my neighbor 85 years old on the way to the store and asking what she needs. True, in addition to two loaves of bread and a couple of packets of milk, nothing else was brought. Among the volunteers, too, the competition was.
Not Me, but We
We neighbors now know exactly those who work in medicine. Not because we are trying to learn something personal. It's just that every morning the medical neighbors go to work by car. And on different and by no means a taxi. Car owners drive them to work on their own initiative! They even created a sort of control room so that there would be no punctures with cars.
A strange time that changes not only the economy, science, morality and everything else that is created by man. It turns out time is changing us. Returns to the understanding that we, regardless of status and position in society, are strong only when we are We, and not a lot of I.
May Day ... The time when everything grows, everything stretches out to the sun. The same May Day is the time of cleansing from the layers of dirt that has stuck to our souls during the time of perestroika, the construction of capitalism, and everything else that we have been doing for the last 30-40 years. Today we are like foliage on trees. Gently green foliage. And not the brown one that we see in September-October.
So, with the holiday of all readers of the Military Review! With cleansing!