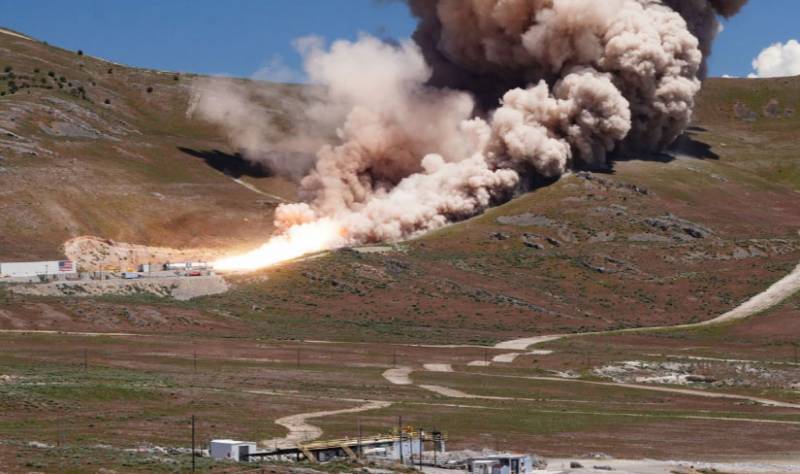 In the United States, they cannot agree with the forecast of one well-known Russian official regarding space flights using trampolines. In parallel, several developments in the American space industry are underway at once - both on the basis of state funding, and purely on a private basis (for example, SpaceX).
A few days ago, the American company Northrop Grumman published several videos that demonstrate preparations for the implementation of the OmegA launch vehicle project. It is planned that this rocket will make its first space flight in the spring of 2021.
One of the videos demonstrates tests of solid propellant rocket engines as part of the OmegA project.
OmegA LV belongs to the middle class of three-stage missiles. The project assumes the ability of these launch vehicles to throw payloads weighing up to 7,8 tons into geostationary orbit (although in this case it is already difficult to classify the rocket as a middle class).
At one stage of the rocket engine tests, a partial destruction of the nozzle occurred. However, then the company nevertheless announced the tests as "successful." Now it is added that the flaws are being phased out and that the rocket will be completely ready for its first test flight, which is about a year away.
It is noted how many enterprises and research centers are involved in the implementation of the project of the new launch vehicle. In particular, testing of engines at the Promontori training ground (Utah) is noted, the last of which was carried out in February 2020:
The US military also has plans for a new missile. In particular, it is planned to use it to launch a group of military satellites into orbit.
Recall that Dmitry Rogozin, today the head of Roscosmos, announced trampolines for the American space industry several years ago.