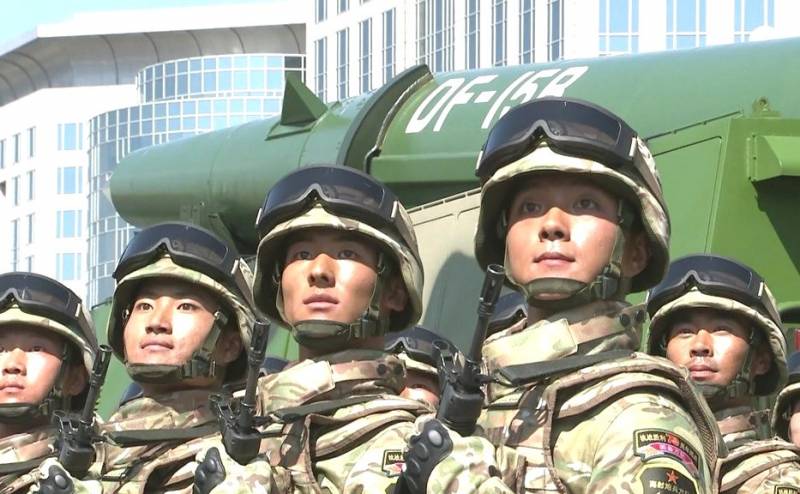 China officially refers to nuclear powers declaring non-use of nuclear
weapons
first in all circumstances. But there are quite high-ranking people in the USA who doubt this. And it cannot be said that they have absolutely no reason at all, except for the strong desire to "kick" China on the information front.
"Holes" in nuclear strategy?
As you know, the official position of the PRC on the use of nuclear weapons consisted and consists of the statement issued by the PRC even after its first test on October 16, 1964: "China will never, under any circumstances, be the first to use nuclear weapons." As the Americans say, loud and clear, loud and clear. This unequivocal statement has been the cornerstone of Chinese nuclear weapons policy for 56 years, and has often been repeated and continues to be repeated both by officials, and in authoritative Chinese publications for an internal and international audience, and even in a classified training manual for missile forces. PLA. This manual, albeit already outdated, has long been leaked to the West and was officially translated and published by the United States Department of Defense 10 years ago. The very fact that such a document falls into the hands of a potential adversary already says a lot about the "order" in the PRC nuclear forces, by the way.
But here is what is amazing. According to Defense News, recently the new commander of the STRATK US Armed Forces (Strategic Forces Command) Admiral Charles Richard, speaking at the US Senate Committee on Armed Forces, said that he could "drive a truck through holes in China's policy" to refuse to use it first. But when he was asked to clarify (committee member Senator John Hawley asked, by the way, this republican at the end of last year became the youngest senator, he was only 39, that for the upper house of the Capitol is just a child's age, there figures up to 90 years old sit without any shift) then Richard suddenly "turned on the reverse gear." He said that China's policies in this area are "very opaque" and said that his assessment is based on "a very small amount of information." Like, I know a little, therefore I say this about the Chinese, they supposedly hide ... The comments of the commander of the STRAT Committee indicate that he is familiar with the most controversial section of the aforementioned Chinese secret leadership, which, according to some American analysts, indicates that there may be some circumstances in which China was the first to accept IT nuclear weapons in a war with the United States.
Strange strategy
This misperception is understandable. Moreover, as the Americans write, at one time with the Chinese document, the US Ministry of Defense had difficulties even with the correct translation. Which, of course, is surprising, given that there are many Chinese in the United States, including various kinds of defectors, but they seem to be translating from a rare version of the language of little-known tribes of Equatorial Africa. In general, the 405-page document of Chinese missiles on non-use is the first to be spoken constantly and clearly. But it also says that ambiguous situations are possible during the military crisis, which can lead to "catastrophic" consequences. It says something like this: "If a strong military power, possessing nuclear missiles and an absolute advantage in high-tech conventional weapons, conducts intensive and continuous attacks on our main strategic targets, and we do not have a good military strategy to counter the enemy," then it's understood further various options are possible. It is clear that we are talking about the United States. Russia is seen as a friend and ally, and not as a military adversary, those days are long gone.
The authors indicate that China's nuclear missile forces are preparing to take concrete steps, including increasing the readiness of nuclear forces and launch exercises, to "convince the enemy to abandon the continuation of strong strikes by conventional means." Pretty toothless and stupid strategy, as it seems to the author of this article. No matter how the option occurs, when it will be too late to drink Borjomi, having kidneys requiring transplantation. This guide calls these steps "adjusting China's nuclear policy and" lowering "the threshold of the threat of nuclear forces. Threats, but not use! Again, a very arrogant plan - with such a number of nuclear forces, arms survivability, their real capabilities and with the vast majority of weapons formally intercontinental radius, which have never been tested not only at full or just intercontinental, but even at the maximum average range.
Chinese leaders would take the steps mentioned above only in extreme circumstances. The text highlights several key events and actions that would serve as triggers. For example, American conventional bombing of Chinese nuclear and hydroelectric power plants, heavy conventional bombing of large cities such as Beijing and Shanghai, or other acts of ordinary warfare that "seriously threaten" the "security and survival" of the nation. Why exactly hydroelectric power stations are indicated along with nuclear power plants - it's clear that Chinese dams on the main rivers, where the majority of the population of China live, even with massive and accurate attacks with conventional weapons can become a source of apocalyptic consequences for tens, if not hundreds, of millions of Chinese. But, excuse me, in the event of even an attempt to deliver a single such strike against Russia, a strike would be delivered immediately, nuclear and massive. And here they simply promise to "increase the readiness of nuclear forces" and conduct exercises. Not too late?
Doubts in the USA and not only
Of course, in the United States, many doubt such a strange nuclear strategy. They believe that the strategy of "escalating to de-escalation" is much more likely to be the case when a party raises bets up to the use of tactical nuclear weapons (TNW) first to show the seriousness of their intentions and their readiness to further increase rates, which will not justify the reason for the enemy to continue military confrontation. In the West, it is believed that this strategy is one of the strategies used by Russia, while Russia, which had not previously denied this, has been the first to deny these or other plans for the use of nuclear weapons or strategic nuclear forces in recent years with a propaganda purpose. However, this denial, no matter from whom it may sound, has little in common with real plans for crisis situations, and the Russian Federation, of course, without assuming the obligation to not be the first, can say anything. But the structure of nuclear forces, their development strategy, in particular , new types of weapons ("March 1 weapons," as he is often called in the West and here), suggests that none of the options, up to the "strike at the appointed time," is excluded. However, about the strategy of "escalating to (or for) de-escalation" we will talk in detail another time - the topic is very capacious.
So, Admiral Richard, obviously, believes that this planned adjustment (in the conditions of massed strikes with conventional weapons against the PRC) of China's nuclear position means that Beijing is preparing to use nuclear weapons first in these circumstances. And that, of course, would be logical. Richard told Senator Hawley that "there are a number of situations where the PRC can conclude that the use of nuclear weapons was the first that did not meet our definition of first use." STRATKOM Commander, like other American analysts, believes that the Chinese will interpret these massive conventional weapons strikes from the United States as the equivalent of the first use of US nuclear weapons against China. And they are right, because that's what actions in this situation should look like. What, it is necessary to wait until the cities and nuclear power plants with hydroelectric power plants are dismantled and a local flood is arranged with Chernobyl and Fukushima in the cube?
Lower the threshold, but not the one
But in the Chinese leadership, "lowering the threshold" does not mean the same as in our or American terms. Our "floating" or "lowered" threshold for using, say, tactical nuclear weapons, means that Russia forces the enemy to guess whether a crushing (or dosed, but with serious consequences) blow will be followed by conventional means of strategic deterrence (for example, Long-range missiles (land, sea, or air-based), or by them, but already in nuclear equipment, or by other carriers of tactical / non-strategic nuclear weapons. Which in itself is a deterrent.
But among the Chinese, this only means ... bringing China its nuclear weapons to a state of alert, and not the decision of the PRC leaders to lower the threshold for deciding on the use of nuclear weapons. And about the first blow there is not a word!
What does it mean? China, unlike Russia, the United States, or even France, holds its nuclear forces, mostly or completely, in a state where warheads are in storage, and not on carriers. In Russia, let's say, this is not so, of course, not all nuclear warheads that can be installed on carriers are on them due to contractual limitations (while START-3 is still in effect), but all carriers, except for those under repair, maintenance, upgrades, charges always carry. Except, of course, strategic heavy bombers — neither we nor the Americans with nuclear weapons on board have been patrolling for a long time at the usual time so as not to create dangerous situations in the event of accidents, such as Tula, Palomares and other "achievements" of the USA. But to suspend nuclear missiles after all not for long. Another thing is TNW - it is mainly stored in arsenals and in the RTB, and in part it can even be transferred to lower degrees of readiness, which, however, is quickly eliminated. But China, it turns out, is not so.
The Chinese SSBNs are not constantly at sea in combat service, do not take duty at the berths, and even if they are on patrol, it turns out that they may not carry nuclear charges. As for the Chinese, for example, the BRSD, BRMD and other non-strategic weapons, for most of them even nuclear charges were not made. The aforementioned manual describes how China's nuclear warheads and the missiles that deliver them are controlled by two separate structures (in our country, the Main Directorate of the Ministry of Defense of the Russian Federation, as they are called, is "deaf", but it's not means that the charges are not on the media). And the Chinese rocket men are training to bring them together and launch after China has been attacked by nuclear weapons. I wonder who will give them time for such an operation? Especially considering the extremely low survival rate of both Chinese mine launchers and mobile equipment in its shelters, especially with the accepted service. So, for example, it is not carried by mobile combat service complexes with patrolling on protected routes, there is no duty on points of the route, and so on - like duty in hangars with a sliding roof of the Krona type, which carries a third of such complexes in the mobile group of the Strategic Rocket Forces of the Russian Federation when the other third is in the forest and taiga.
If you plan like this, then you don't have to wake up
All of these behaviors are consistent with a first-time use policy. The "adjustment" that the Chinese nuclear forces are preparing to make in a crisis situation if the United States bomb China with impunity is to bring China's nuclear forces into a state of alert, similar to the one in which the United States nuclear forces have been located all this time. This This step is intended not only to put an end to the bombing, but also to convince American politicians that they cannot count on the destruction of China's nuclear potential in the event of an escalation of the crisis. Rowan - nuclear forces may simply be destroyed in this situation especially considering that the early warning system in China, as a system, there is still no (but soon will, with our help)..
The authors of the Chinese leadership for missiles suggest that warning the Chinese nuclear forces to increase combat readiness "will cause a state of shock in the enemy." They also suggest that this could "prevent the continuation of the usual attacks of a strong adversary on our main strategic goals." This is highly doubtful. The only shock would be from the fact that the Chinese are still sleeping among the shafts while the cities are being erased.
Given the low combat readiness and low survival rate, and organizational flaws, and a small number of charges and carriers, the head of the White House may be tempted to quickly erase China's nuclear forces from the face of the Celestial Empire, and with almost impunity. And having received a notification that the Chinese are putting charges on carriers, the US president is unlikely to hope that Chinese carriers, having never been tested at the required range, will not deliver Chinese charges to the States. He probably doesn't know about this: the current president does not know what is happening in his nuclear sphere, being in a dream of "strengthening America's power in nuclear weapons to unprecedented heights", of "hypersonic systems, which are already many" and so on. Maybe the president will be smarter sometime, but looking at Trump's main rival, Biden, doesn't seem so. In general, no matter who is sitting in the Oval Office, he will not think and wait! One study concluded that if the US uses nuclear weapons to try to dislodge Chinese ICBMs and SLBMs, which (in theory) can reach the United States, this could lead to the deaths of tens of millions of Chinese civilians. Rather, it will cause the death of Chinese nuclear forces. With the subsequent death of tens or hundreds of millions of Chinese. Of course, we do not touch on the topic of Russia's behavior in such a situation, which is unlikely to allow us to erase our neighbor and friend from the face of the Earth.
The Chinese nuclear forces, of course, are being improved, but even their latest missile systems look good in parades and in advertising bikes in the Chinese media, but the experts even have the "newest" (developed for a quarter of a century) DF-41 system (which it was possible to disassemble on this resource) causes a smile and questions about the adequacy of its creators. Being outwardly similar to the Russian mobile soil systems of the Strategic Missile Forces, these systems are extremely far from them in terms of their technical level and even classification. And such arrogance and the belief that someone will give them the opportunity to at least bring their weapons into combat readiness can cost China dearly. Underground shelters in the rocks is, of course, good, but not enough to build the potential for a reliable retaliatory strike. But SSBNs can remain in the bases forever, while they will remove the missiles and install charges on them and return the missiles back.
The slippery path to nuclear war
The Chinese military is aware that an attempt to force the United States to cease conventional attacks by warning its nuclear forces could fail. They also know that this can trigger a nuclear war. But if that happens, they also believe that China will not be the one to start it. Which, in the author's opinion, is stupid, because China does not yet have a guaranteed potential for a retaliatory strike, and even for such a tough option, when nuclear forces fully meet the sky-ready military.
The logic of the Chinese is completely different. In their opinion, a nuclear attack is often preceded by nuclear coercion (threatened by force, demonstrative nuclear actions up to strikes on uninhabited areas in the oceans, etc.). Because of this, in the midst of a high degree of nuclear coercion process, China must be well prepared for a nuclear retaliatory strike. The more complete the training, the greater the credibility of nuclear coercion, the easier it is to achieve the goal of nuclear coercion, and the less likely it is that nuclear missile forces will be used in real hostilities. Such is their logic, and it is clearly erroneous; they are unlikely to be given time for this.
They suggest that if China demonstrates that it is well prepared for retaliatory action, the United States will not risk a restrictive strike using nuclear weapons. And even if the United States strikes China's nuclear forces using conventional weapons, China will not be the first to strike. In the introductory section of the next chapter, on "nuclear retaliation operations," the manual gives instructions, as is often done throughout the text:
According to the principles of our country, its tough position on the non-use of nuclear weapons by the first, the "Second Artillery" will launch a nuclear missile attack on the important strategic goals of the enemy, according to the military orders of the Supreme High Command, only after the enemy carries out a nuclear strike on our country.
Completeness, comrades, the Chinese, but will you have anything to strike after massed mass strikes with conventional weapons on non-operational nuclear forces of not very high survival rate?
So Richard is both right and wrong when speaking of "holes" in Chinese strategy. From the Chinese point of view, there are no "holes" in it, but from the point of view of the representative of the strategic nuclear forces of one of the two superpowers, it consists of holes. However, this is not the most modern Chinese document on this subject, and since China then allowed, albeit stupid and extremely cautious, to deviate from the theses expressed by Mao Zedong, and then Deng Xiaoping, about the strict rule of non-use first, that something could change during this time. After all, it is not for nothing that Russian-Chinese military cooperation has reached strategic areas, such as joint patrols of bombers. building a joint, in fact, SPRN, missile defense exercise. They could learn something and clarify in the nuclear plan, communicating with the "fighting nation". Although, if you look, there is almost no deviation from the principles of Mao and Dan, because the PRC does not intend to respond with nuclear weapons to a massive disarmament conventional strike (or a decapitating conventional strike, or strikes that cause catastrophic consequences for the country and population).
Mao Zedong famously called nuclear weapons a "paper tiger." He called so many things. Many believed that Chairman Mao was talking too unceremoniously about the consequences of a nuclear war. But he meant that they would not be used for struggle and victory in wars. US nuclear threats during the Korean War and the Strait of Taiwan crisis in the 1950s, in Vietnam as threats that did not result in a real nuclear attack, only confirmed Mao's idea that nuclear weapons were primarily psychological weapons. And hence the Chinese attitude to these weapons. Chinese leaders have decided to acquire nuclear weapons in order to free their minds from what the Mao generation called "nuclear blackmail." Chinese nuclear scientists called it the "straight back leader position." That is, nuclear weapons China needs to sit in negotiations with a straight, not a bent back. "Countering nuclear blackmail along with coercing other nuclear-weapon states into negotiating their elimination were the only two goals that Chinese nuclear weapons should serve." The modern Chinese military seems to have added a new goal: to force the United States to stop attacks by conventional means, without the use of nuclear weapons. But this, as shown above, is a rather dangerous strategy for China itself, if there are no real inhibitory factors that protect against attempts at massive conventional disarmament and decapitation strikes.