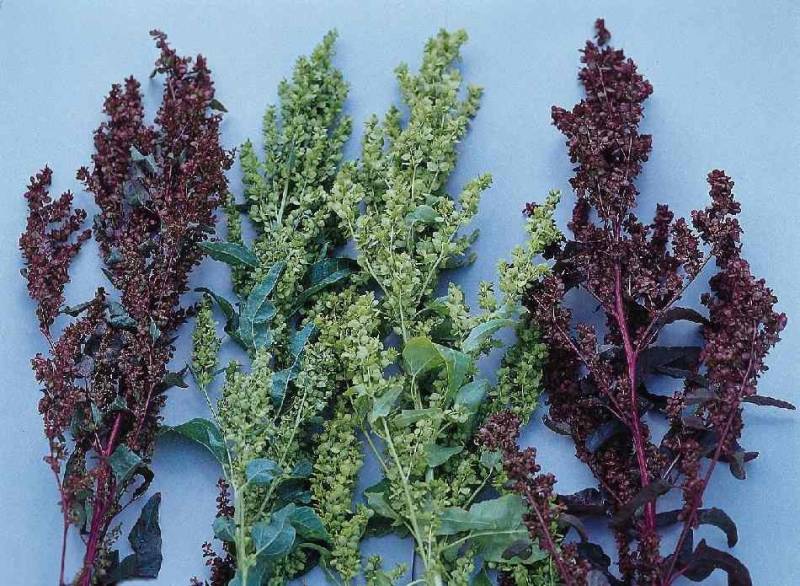 Quinoa. It happens green, it happens red
The theme of hunger and war, of course, cannot ignore the question of the swan and the bread baked from it. This article appeared, so to speak, at the numerous requests of the working people. "They often ask us," the legendary Armenian radio said. So, quinoa and how to eat it.
True, the result of the study, perhaps not too fundamental, turned out to be somewhat discouraging. Everyone knows about the quinoa and about the fact that it was eaten during the hungry years, but there are almost no details about it. I managed to find a recipe for bread from quinoa, more precisely, from a mixture of quinoa and bran, which was tested by Maxim Edlin from Moscow State Technical University. K.G. Razumovsky. But this recipe is not peasant, but wartime. And that's all for now. In my opinion, even William Pokhlebkin, a great connoisseur of Russian cuisine and its
stories
The deceased, bypassed this topic.
In any case, in the whole grief of all literature devoted to the grain business before the revolution and after it, in all kinds of surveys of peasant farms and agricultural technology of cereals, I did not come across references to quinoa, not to mention a detailed analysis of what it is and how it was used. Even in botanical studies, a little attention is devoted to the swan.
A little paradox: everyone knows, but without details. Let's try to figure it out.
The bread seemed to be bad, but the peasants baked and ate it
There is an opinion, still pre-revolutionary, that quinoa bread is bitter, unpleasant in taste and actually not suitable for food. L.N. wrote about this bread Tolstoy at the time of the famine of 1891. The peasants of the Tula province, where the writer had a manor, baked bread with a swan, and with unripe, with green grains. Bread with such a swan caused vomiting. Writers asked scientists why there was no study of the nutritional properties of quinoa. Professor A.F. Batalin (real state adviser, director of the Imperial Botanical Garden) in the same 1891 answered that quinoa flour is similar to rye, but its digestibility is poor. Professor of the Department of Hygiene at Moscow University F.F. Erisman was very negative about using quinoa. Finally, Professor N. Semenov in 1893 conducted a study of quinoa flour, determining its composition: 7% fat, 49% nitrogen-free extractive substances (mainly hydrocarbons: sugars, starch and others), 17% nitrogenous substances, mainly proteins. The quinoa bread, pure or mixed with rye flour, the professor experienced on himself. The result is so-so: bread is disgusting to the taste, you can't eat a lot of it, weight loss and poor health were noted from eating.
It would seem that the verdict of scientists is completely unambiguous. However, the same Tolstoy wrote that bread and swans were eaten not only by poor peasants from hunger, but also in rich peasant farms. The first farm, where bread was baked with quinoa, had its own thresher, four horses, had a supply of oats, potatoes, buckwheat, and a small supply of rye (the year was barren for rye). The farm is kulak, but all 12 eaters ate bread with quinoa.
So the opinion of the peasants, with their powerful estimates and iron practicality, came into clear contradiction with the opinion of the professors. The peasants not only ate the quinoa, but even sowed it, sometimes with rye. The whole question is: why?
Green conveyor
Let's go on the other side and ask ourselves: what is quinoa and how is it grown? This family includes 250 species, but garden quinoa was of nutritional value. She has been known since time immemorial, her first description was made by Theophrastus BC. It was grown throughout Eurasia, from Spain to Tibet and Bengal. In Europe, it began to be actively eaten around 1200 as an analogue and substitute for spinach, like greens. In the same quality, quinoa is grown now. It was also used as a medicine in folk medicine and as a source of blue or green tissue dye.
The culture is characterized by phenomenal weather resistance. It easily tolerates droughts, it is enough from 30 to 140 mm of precipitation per year. Wheat does not ripen under such conditions. Quinoa grows well on acidic and sandy soils, tolerates salinity. Its resistance to cold and frost is striking. Quinoa can be sown as a winter crop, and seedlings appear immediately after thawing the soil. In Germany, it is sown in February, in Russia it is sown immediately after thawing the soil (in early April), and after 7-15 days the quinoa sprouts. By the way, you can not sow; quinoa propagates by self-sowing and can be grown as a perennial culture.
The culture is fast growing. Already on the 20th-25th day after the shoots, quinoa gives leaves that are eatable, and on the 40-60th day it already releases buds. Therefore, quinoa is planted on greens several times in the spring, from the first sowing in early April and then two weeks before June, that is, five or even six sowings. It is also possible to sow in August and September, before the cold, she also manages to give enough greenery. They remove it either by cutting the stem, leaving the lower leaves, and in a month it grows again, or simply cutting off the lower, largest leaves. Watering and fertilizing with urea give good growth and delicate, soft greens.
According to the thesis of Victor Epifantsev (2012), field cultivation of quinoa gives from 12 to 17 tons per hectare, and garden sowing gives 1,5-2 kg of greenery per square meter per season or 15-20 tons per hectare. In addition, the grain yield is 1,2 tons per hectare or 12 centners per hectare, which is comparable to the yield of millet - a typical insurance, drought-resistant crop.
Well, what can I say? Green conveyor!
Greens and grain quinoa
Now let's look at this plant with an inquisitive peasant look. As a culture "to maintain the pants" - it's better not to come up with! Sowing quinoa in early April, using only thawed mud, you can get foliage on April 25-30, just at the time when spring cultivation and sowing of spring crops, wheat, rye, oats, and barley are in progress. Field work is hard, you need to eat, and the farm has already eaten up supplies, there is only a little bit of flour and grain for seeds. The green of quinoa helps out a lot. The composition of greens per 100 grams of the product: 0,8 grams of fat, 4,2 grams of protein, 7,3 grams of carbohydrates, calories - 43 kcal. By caloric content, it is about 40% inferior to potatoes, but contains eight times more fat and twice as much protein. Therefore, feeding on the green of the quinoa during the period of heavy field work and a large expenditure of energy is quite a solution. Greens can be baked, added to soup or cabbage soup or just eat raw. I plowed the plot, let the horse graze and rest (the working horse must be protected, it will not be bred and the other will not be given; therefore, every 2-3 hours of plowing it is necessary to rest the animal), and he himself went to pinch the quinoa. Grams of 800 rye bread and a kilogram of green quinoa give about 2500 kcal, which is enough for work. 20-30 stalks of quinoa may well feed the peasant in spring work.
You can eat green quinoa with vegetables in the summer, until a new crop of bread and potatoes. He planted a quinoa on the edge of the field, in the garden and on haymaking, where the peasant usually works in the summer, and now the pasture is ready.
Now grain and baking quinoa bread. In my opinion, making flour from quinoa was a peasant secret that was not shared with anyone, and therefore the St. Petersburg professors, together with the landowner, did not know about it. Professor Semenov, already mentioned, made quinoa bread, grinding the whole grain, together with a stiff bark, the sharp parts of which injured the intestines. But in the collection of pre-revolutionary bread recipes in case of crop failure it is said that quinoa grain must be carefully prepared. The technology is similar to producing barley or oatmeal. The grain of the quinoa is first sieved from foreign seeds. Then they push in a mortar to free from grassy bark, then boil boiling water and dry in an oven. After drying, the grain is again pounded in a mortar to free from the blackish bark and highlight the white core of the grain.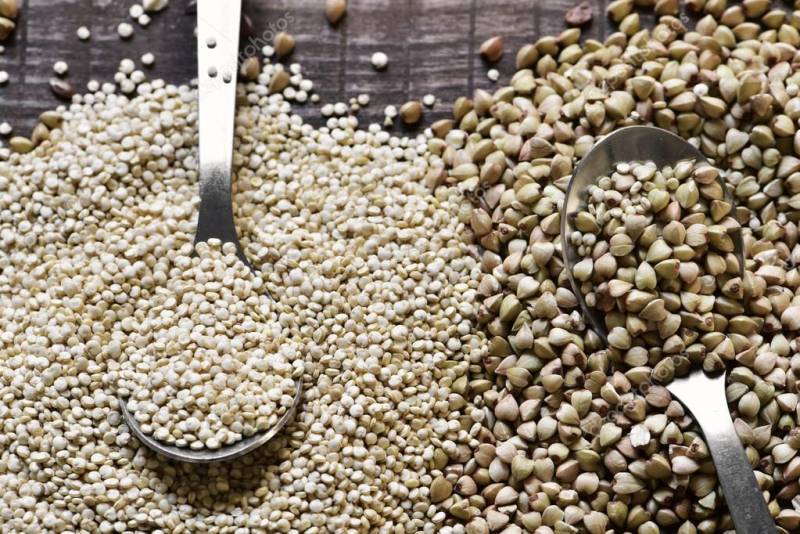 On the left is the grain of the quinoa, on the right is the grain of buckwheat. Normally processed and peeled quinoa grain is quite a good product
It can be ground into flour or used as cereal. Another way, faster, was to pass the quinoa twice through the millstones, and then wean the flour from the chaff. You can cook porridge from cereals, and flour is mixed with rye flour and baked bread.
There is one more nuance that you need to know. The quinoa grain does not ripen at once. The lower fruits ripen earlier and turn yellow, and the upper ones are still in the ovary stage. Grain is harvested when more than half of the fruits turn yellow. Plants are cut off and placed to ripen for one or two weeks in a ventilated area. After that, the quinoa is threshed and the grain is treated as described above.
Now it's becoming clear that bad quinoa bread is a product of technology disruption. Black as a lump of earth, disgusting to the taste and vomiting bread from a quinoa definitely turned out if an unripe grain was put into the grinding, and even with the bark, which clearly enhanced the effect. The same bread can be baked from wheat or rye, if you grind flour from unripe or sprouted grain. It's not the quinoa that's to blame, but the crooked bakers who can spoil even first-class flour.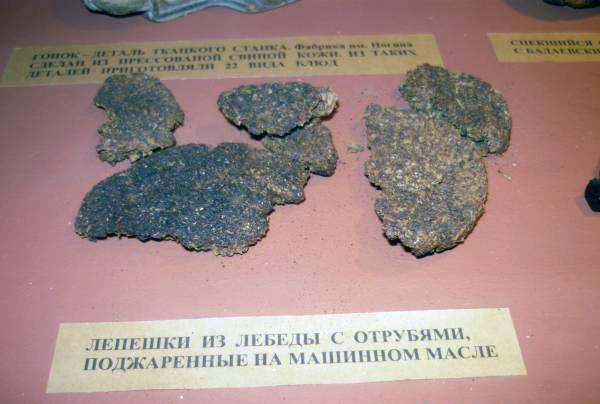 Unlucky able to do something inedible, even from suitable products. For such mockery, it would be worth feeding the crooked-handed baker his own products. For educational purposes, so to speak
A good baker can bake a lot of bread. For example, there is a recipe for flour from wheat or rye straw, which is ground into the smallest section, and then ground on a millstone. The yield of a small, suitable flour is about a third of the cut, but when mixed with bread flour in proportion one part of the straw and two parts of the bread flour is tasty bread. In modern terms, this is the addition of food pulp. So there's no need to say that this is bad quinoa. You need to know a way.
Quinoa in the food industry
In the military-food economy, quinoa, most likely, should take the place of garden crops, for small plots and self-supply in cities and towns. First of all, it is worth growing for the sake of greenery, which leaves a lot, this greenery grows very quickly and just at a time when additional nutrition along with vitamins is most needed, that is, in spring and early summer.
Due to its cold resistance, quinoa is very suitable for greenhouses heated in the cold season, where it should grow and give greenery all year round. In addition, there are interesting varieties of greenhouses that can maintain room temperature even in winter without additional heating. In combination with LED backlighting, it should turn out very well: a year-round green conveyor that gives fresh greens with good nutritional value.
On larger farms, quinoa can be sown, firstly, as a forage crop, secondly, as an insurance crop, in case the year turned out to be too cold or too dry and ordinary breads did not degenerate, and thirdly, as a crop , which occupies lands unsuitable for other crops, especially on dry and saline soils, however, the yield will be lower.
As a grain crop of quinoa, it belongs to the northern regions, which are especially extensive in our country. Rye, if you get a hold of it, can be grown beyond the Arctic Circle, but nevertheless, quinoa will yield the same crop with less effort and on worse soils.
So, if any adversary expects to starve us to starvation in the event of a protracted war, he is very mistaken.