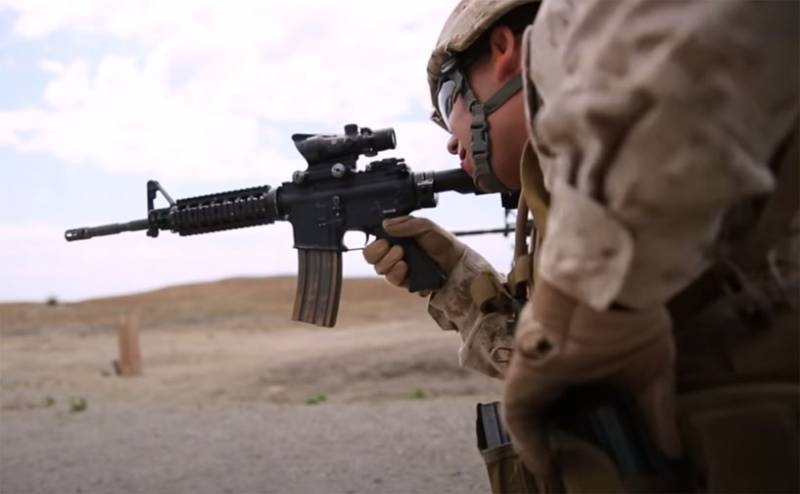 The US Army continues to test the so-called "smart"
weapons
whose main task is to protect the military from "friendly fire". The weapon should either be signaled that in this direction the shooting should not be carried out due to the high probability of falling into one's comrade, or block the very possibility of firing at such a moment. While the emphasis is on the first option.
They are trying to turn various existing versions of American small arms into the "smart" one. One of these is the 4 mm M5,56 automatic carbine.
Tests of special systems have been resumed, which allow the military to receive a visual and / or sound signal to prevent "friendly fire". Such a system operates in the case of equipping all unit soldiers with similar devices. And any soldier who does not have a "smart" system on his weapon will be perceived by the "smart" system of another soldier as an adversary. This is a peculiar version of the tactical "friend or foe" system, which is produced in several countries of the world, but has not yet received particularly wide distribution.
According to some reports, soldiers of special operations forces in Afghanistan tried to use something similar during tests in combat conditions.
However, the US military notes that the psychological effect of distrust of the system plays an important role. In conditions of bright light and dust, with the noise of battle, it is impossible to rely 100% on the fact that a light or sound signal will be perceived by the body adequately. Moreover, all human senses operate in a stressful mode, which can lead to an unpredictable reaction to the signal received from small arms.
In general, US Army personnel participating in the tests of "smart weapons" while the system was rejected. The human factor still prevails.
Now developers are trying to accentuate the signal from the "smart" system so that the fighter perceives it clearly even in a stressful situation.