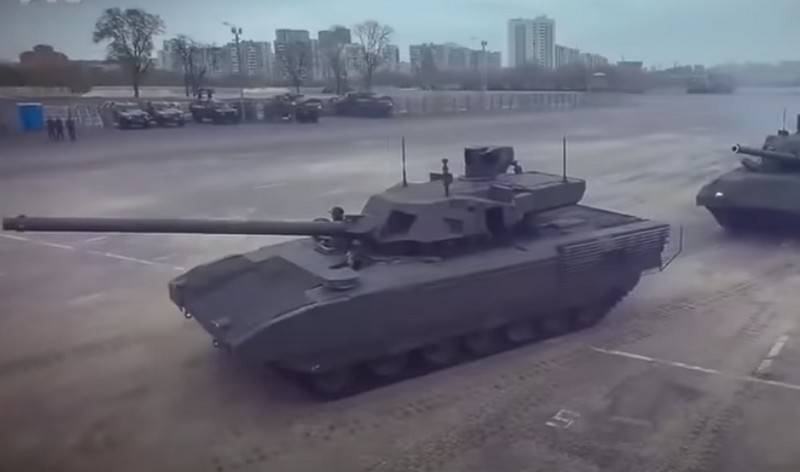 The promising T-14 Armata tank is not a Russian development, but is of Ukrainian origin. According to Defense Express, "Armata" was allegedly developed on the basis of the Kharkov project "Object 477 Hammer".
Ukrainian experts claim that the T-14 Armata, positioned by Russia as a "revolutionary tank with active protection, a radar, a 152-mm cannon with an automatic loader and a powerful engine," is in fact the Ukrainian development of the 80s of the last century. The publication writes that in its concept and the specified characteristics, Armata is no different from the Kharkov Hammer, starting "from the caliber of the gun and the crewless tower, engine power and the presence of active protection." The only difference is the availability of modern electronics, but this is explained in Ukraine as the "30-year technological advancement".
However, in reality, as in the case of many "new products" of the Russian defense industry, "Armata" is only the implementation of the USSR sunset project. Namely, the project of the Kharkov Design Bureau of Mechanical Engineering named after Morozov Object 477 "Hammer", which began to be processed in the 80s
- say Ukrainian "experts."
According to them, Russia began the development of "Almaty" in the 2000s, when oil prices allowed Russian specialists to gain access to foreign technologies, without which Russia allegedly could not create a modern tank on its own.
The active use of Western components allowed Russian designers from Uralvagonzavod to draw Armata on top of the drawings of the Kharkov Hammer
- writes the edition.
However, the introduction by the collective West of anti-Russian sanctions "for the capture of Crimea" and the cessation of supplies of Western components did not allow Russia to bring "Armata" to a series and supplies to the troops.
All that the Russian military-industrial complex under the Armata project has been able to achieve over 10-15 years is to use up enormous funds, collect experimental samples with various degrees of equipment from stocks of the "pre-sanction era" and transport them along Red Square during the parade once in year
- say Ukrainian experts.