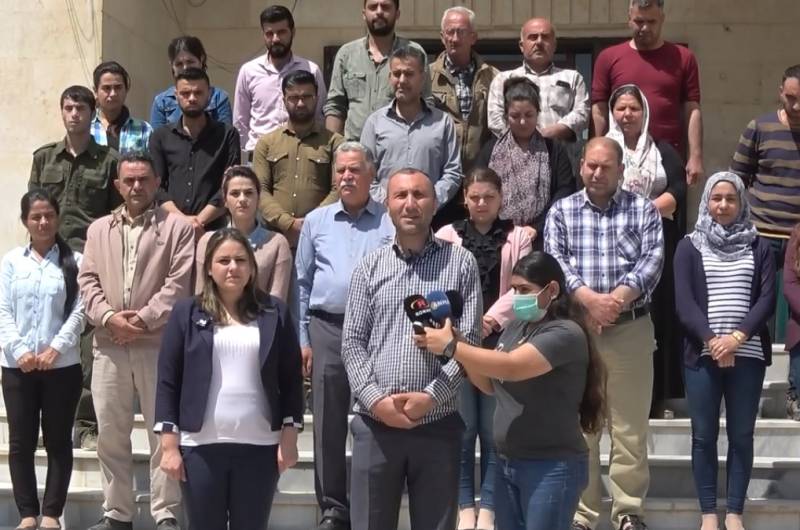 The autonomy administration of the Euphrates region demanded that Russia and the United States, acting as guarantors of a peaceful settlement in the region, take responsibility for the Turkish air raid at the checkpoint of the Kurdish Internal Security Forces (Asaish) in the Syrian city of Kobani. This statement was made by the Autonomous Administration yesterday, a few hours after the attack.
This writes the Kurdish publication ANHA.
Representatives of the so-called Autonomous Administration of the Euphrates region made this statement publicly outside the Executive Council building in Kobani. The text was read by the co-chair of this organization, Mehmed Shahin.
It says that Turkey, having committed an armed attack on the city, violated a number of legal and ethical standards. The attack occurred during the holy month of Ramadan for all Muslims. In addition, Ankara has violated the international decision to suspend armed conflict until humanity cope with the coronavirus pandemic.
And since the Russian Federation and the United States of America voluntarily assumed obligations to ensure security in this part of Syria, the Kurdish side recalled the need for their implementation, requiring the guarantors to take measures to curb the aggressive actions of the Turkish military. Representatives of the Autonomous Administration also mentioned that, six months ago, by agreement with Russia, the forces of the Democratic Syria (SDS) were withdrawn from the north-eastern border of the country. For some reason, the "autonomous administration" was not reminded of how the Kurdish population stoned the Russian military patrol.