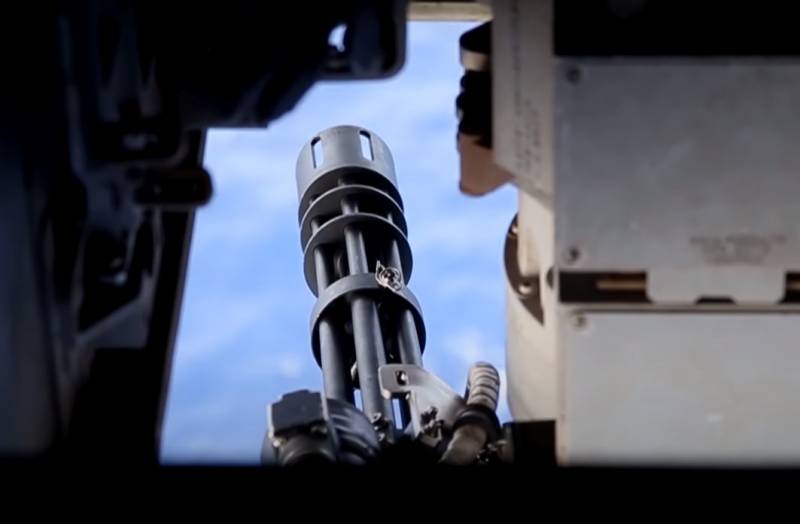 Convertibles are widely used in special operations of the US armed forces. Convertibles MV-22B Osprey ("Osprey") give a special combat power to the hidden GAU-17 turret.
First of all, we note that in most US military operations, tiltrotor aircraft are used for covert landing of special forces and are used by the US Air Force and
aviation
US Marine Corps. Marines landed with the MV-22B Osprey during military operations in Iraq and Afghanistan.
There are aboard the Skopas and weapons. Previously, the M240 machine gun with a rate of fire up to 950 rounds per minute with 7,62 mm rounds was considered basic for convertiplanes. But since 2008, after signing the contract of the command of the Special Forces of the United States Air Force with the BAE Systems corporation, they began to mount RGS (Remote Guardian System) remotely controlled defensive round-fire systems.
This system is integrated with the 7,62 mm GAU-17 Minigun machine gun. It is mounted under the fuselage of the tiltrotor on an external sling. When the tiltrotor takes off, the turret extends from under the fuselage. Turret release time - 2 minutes. Also, in 2 minutes, the turret retracts when landing the tiltrotor.
The second pilot of the tiltrotor, acting as a shooter, performs aiming using a monitor, which receives a signal from an external camera. Then he controls the turret with a special joystick. Thus, the remote control of fire.
By the way, fire can be fired at a speed of 3000 rounds per minute, and the system rotates 360 degrees. Thanks to the turret, the second convertiplane pilot can hit enemy manpower at a distance of up to 1500 meters.
The need for a turret is mainly to provide protection in any direction. After all, you are not limited only to shooting from one side of the plane or just from the nose. You can shoot in any direction from the belly of the plane,
says Sgt. Ted Karp of the 1st Tactical Marine Corps Squadron.
However, the system has its drawbacks. Captain Craig Thomas of the Marine Corps believes that the turret, due to its weight, reduces the number of troops and cargo that can be taken aboard a tiltrotor.
In addition, the load on the co-pilot increases, which, in addition to its main responsibilities, must also control the fire. Some servicemen complained to the commanders of nausea and dizziness because of the need to continuously monitor the monitor at a time when the tiltrotor was turning and leaning:
From the need to constantly look at the monitor when maneuvering the tiltrotor begins to feel sick.
And in the command of the United States Marine Corps, they believe that the use of a turret provides convertiplanes with new opportunities that have not yet been fully explored and tested in real combat situations.