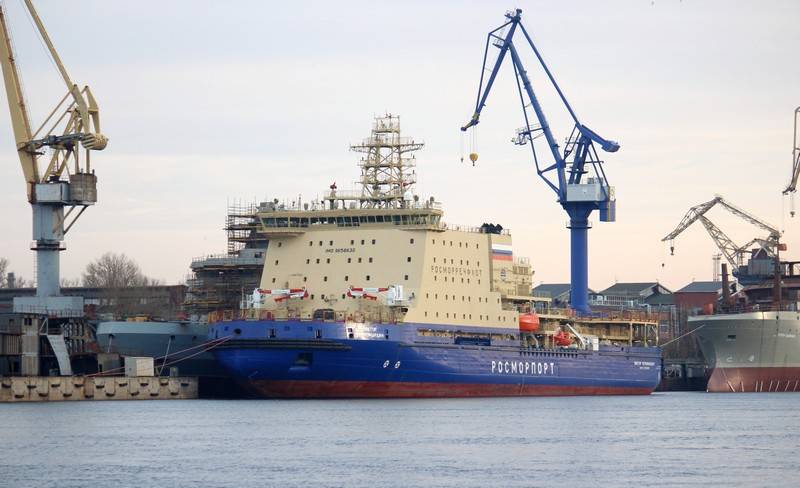 The world's most powerful diesel-electric icebreaker Viktor Chernomyrdin will probably be commissioned by September this year. As reported
"Businessman"
citing own sources, the issue of additional financing and a shift in the deadlines for the delivery of the vessel has finally been resolved.
According to the publication, the Ministry of Transport and the Ministry of Industry and Trade have resolved all disagreements about the increase in the cost of building the Viktor Chernomyrdin icebreaker. The ministries will allocate 1 billion rubles for the project, and another 1,5 billion for the icebreaker will be allocated by USC.
The fact that the cost of building an icebreaker, originally announced at 8 billion rubles, increased to 11 billion, it became known back in 2017. The reason for this was the exchange rate difference, as well as repeatedly introduced changes to the project, however, the icebreaker customer Rosmorport did not agree with the increase in costs. Now it is reported that all expenses have been agreed.
According to the source of the publication, the icebreaker, at best, will be delivered to the customer by September, because the preparation of the necessary documents will take a very long time.
At the end of December last year, it was reported that the Viktor Chernomyrdin icebreaker was technically ready, the crew was formed, the ship passed all the necessary mooring and sea trials, however, the transfer to the customer was postponed again due to inconsistency of financial and legal issues with the customer.
The icebreaker of project 22600 was built by order of the FSUE "Rosmorport" according to the contract signed with USC in December 2011. The icebreaker was laid down at Baltic Shipyard-Shipbuilding LLC on October 10, 2012. According to the plans of shipbuilders, the icebreaker should be commissioned in 2015, but in 2013 the construction was stopped due to gross errors during the development of the design documentation for the vessel, as a result of which the design overweight on the mass of the icebreaker was about 2,5 thousand tons.
The construction of the icebreaker for the redesigned project was resumed at BSZ only in the second half of 2016, and in September 2017, the icebreaker Viktor Chernomyrdin of the 22600 project (LC-25) was transferred for completion afloat from Baltiysky Zavodostroenie LLC to the opposite shore Neva on the JSC "Admiralty Shipyards". The reason for this was the workload of the BSZ on the construction of the 22220 project icebreakers (LK-60Я).
However, the misfortunes did not end there: in November 2018, a fire occurred on the vessel under construction, as a result of which part of the icebreaker equipment was damaged. The consequence of the fire was another shift in the delivery of the icebreaker to the right due to damage to imported equipment, which was being replaced in Korea and Europe.