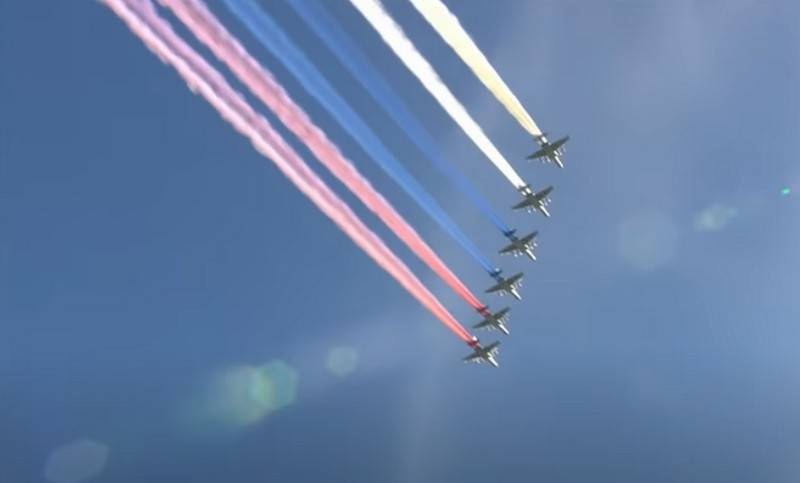 Against the background of the cancellation of the ground part of military parades in commemoration of the 75th anniversary of the Victory in the Great Patriotic War due to the coronavirus, a decision was made to hold the air part of the parade over Russian cities. It is reported by the Ministry of Defense.
In the Western Military District a linear span
aviation
will pass over the central squares of St. Petersburg, Kursk, Orel, Voronezh, Belgorod, Vologda, Yaroslavl, Nizhny Novgorod, Smolensk, Vyazma, Ostrov and Kaliningrad. Su-35 and Su-30SM fighters, Su-34 bombers, MiG-31 long-range interceptors, An-12 and An-26 military transport aircraft and army helicopters will take part in the airborne part of the parade.
It is noted that the decision to hold an air parade over Moscow has not yet been made, but there is a high probability that it will be positive.
In the Southern Military District, linear flights will take place in Rostov-on-Don, Volgograd, Kaspiysk, Novorossiysk, Krasnodar, Vladikavkaz, Stavropol, Sevastopol, Kerch, Grozny, Astrakhan and Yeysk, as well as over a military base in Armenia. A total of 126 aircraft of various types and 84 helicopters are planned to participate.
The Northern Fleet will hold an air parade over Murmansk. 17 planes and helicopters will fly over the city, including anti-submarine Il-38 and Tu-142M, ship fighters Su-33 and MiG-29K, interceptor MiG-31BM and others.
In addition, May 9, 2020 in Moscow, St. Petersburg, Voronezh, Kaliningrad, Tula and Smolensk will be festive fireworks.
Recall that in connection with the spread of coronavirus infection, it was decided to postpone the Victory Parade and the procession of the Immortal Regiment to another date. The day of the new parade will be determined later, taking into account the further situation with the coronavirus.