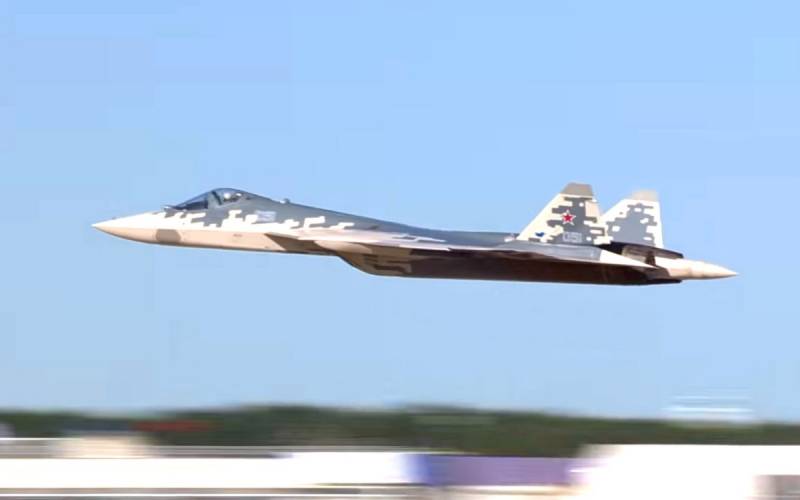 In the near future, Russian airborne forces can get into service a new modernized Su-57. According to Izvestia, citing sources in the defense industry complex, the updated aircraft will receive electromechanical drives instead of the hydraulic system.
The first flight of the upgraded Su-57 can take place as early as 2022, work is already underway to completely replace the hydraulic control system with an electromechanical one. It is planned that the tests of the new fighter will take at least two years. In addition to checking the flight characteristics of the updated fighter, it is necessary to carry out work on the reliable protection of electric drives from external interference and lightning discharges.
It is noted that the complete transition to electric drives is technically a very difficult task, but when solved it gives undeniable advantages over "ordinary" airplanes. It is assumed that replacing the hydraulic system with electric drives will reduce the radar visibility of the aircraft, simplify its maintenance and make the fighter more resilient in case of defeat. Also, the fighter will become much lighter and more maneuverable.
The problem of replacing the hydraulic system with an electromechanical system is also being dealt with in the West. So, the American F-35 fighter already has a mixed electro-hydraulic system: each tail unit has its own independent hydraulic circuit, which is controlled by an electric drive. The Swedish company SAAB, which manufactures Saab JAS 39 Gripen fighters, is developing a fully electromechanical control system for its aircraft.
Note that although the Su-57 is still at the final stage of testing, Russian engineers are already preparing several programs for its future modernization, because science does not stand still, and the modernization potential incorporated in the aircraft is very large.