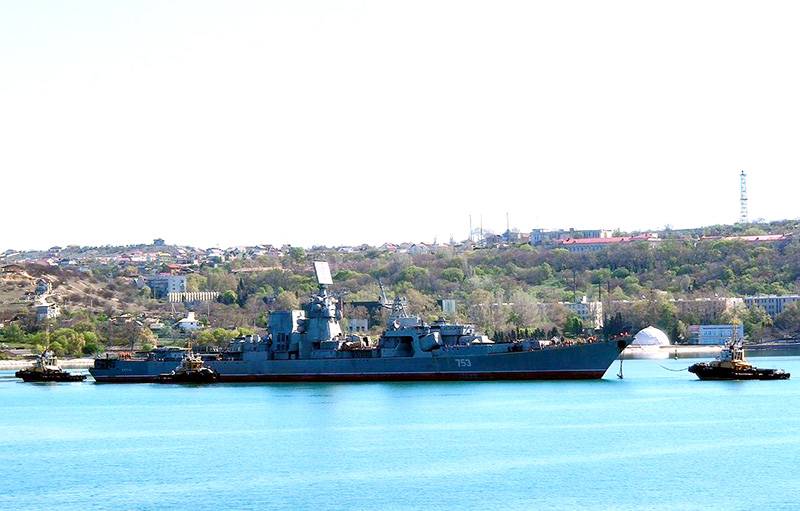 Large anti-submarine ship "Kerch" project 1134B (code "Berkut-B") went for disposal. As reported by the Sevastopol Television, the ship was towed to Inkerman Bay at the last parking lot and subsequent butchering.
The Kerch BCP was the third in a series of seven ships of Project 1134B (the Berkut-B code, according to NATO codification - Kara class), built at the 61 Kommunar shipyard in Nikolaev. The main purpose is the action as part of the search and strike groups to search for and destroy nuclear missile submarines in remote areas of the ocean.
Laid down on April 30, 1971, launched on July 21, 1972. It was commissioned on December 25, 1974. He served in the Black Sea
fleet
From 1994 to 1997 was the flagship of the fleet.
In 2014, the ship embarked on a planned rehabilitation, but the fire that broke out in November 2014 on the BOD caused too much damage to the ship. The Navy Commission, which conducted the survey of the ship, decided not to restore it, but to dispose of it. In 2015, the Kerch BPC was withdrawn from the combat fleet and began to withdraw weapons.
On February 15, 2020, a solemn ceremony of lowering the Navy flag took place on the ship, the BOD was finally withdrawn from the fleet and transferred to the category of military equipment of the Ministry of Defense.
Recall that the new marching engines of the BPC "Kerch" of Ukrainian production were dismantled and rearranged on the patrol ship of project 1135 (code "Petrel") "Ladny". On "Kerch" completely new turbines were installed, purchased from Ukraine before the Maidan coup, at the same time, the "Turbine" turbines fully exhausted their resources.