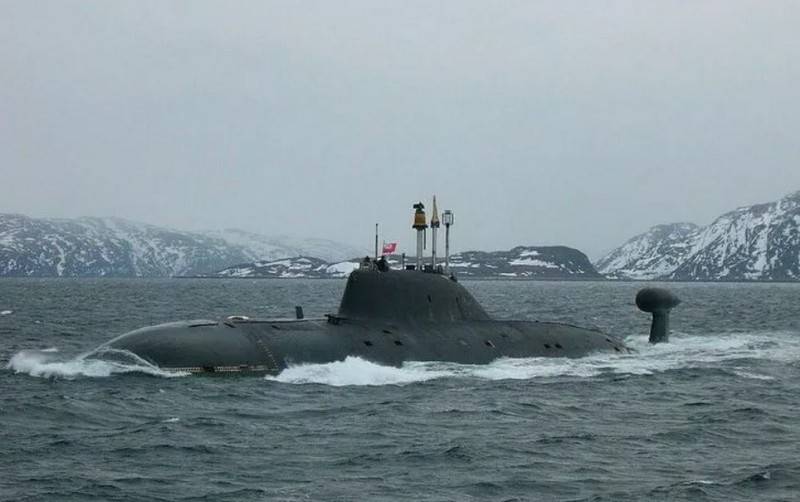 Multipurpose nuclear submarine (NPS) "Vepr" of project 971 "Pike-B" will return to the Northern
fleet
in June of this year. This was reported by TASS with reference to a source in the military-industrial complex.
The Vepr nuclear submarine completed all tests; all modernized and repaired systems and equipment were tested at the Barents Sea training grounds. Currently, the submarine is located at the Nerpa shipyard, where the comments identified in the tests are being eliminated.
The submarine returned to the Nerpa shipyard to eliminate comments. This work will last about a month, then, after a brief docking, in early June it will be transferred to the fleet
- the agency leads the words of the source.
As the Northern Fleet press service previously stated, the return of the submarine to the Northern Fleet was planned in April 2020, but these deadlines are not final and will depend on the results of the tests, because at the request of the customer, "many new systems were involved in the modernization process."
The Vepr nuclear submarine underwent repairs and modernization at the Nerpa shipyard (a branch of the Zvyozdochka ship repair center).
The Vepr nuclear submarine was launched under the name K-157 at the Sevmash shipyard in Severodvinsk on July 13, 1990, launched on December 10, 1994, and was commissioned on November 25, 1995. It is part of the Northern Fleet.
Main characteristics: Surface displacement of 8140 tons, underwater 12770 tons. The longest length on the waterline is 114,3 meters, the largest body width is 13,6 meters, the average draft on the waterline is 9,7 meters. Surface speed of 11,6 knots, submarine 33 knots. Working immersion depth of 480 meters, the maximum immersion depth of 600 meters. The crew of 73 people, including 31 officers. Autonomy of swimming 100 days.
Armament: 4 torpedo tubes 650 mm (ammunition - 12 torpedoes) and 4 torpedo tubes 533 mm (ammunition - 28 torpedoes), missile torpedoes and cruise missiles RK-55 Granat, MANPADS Strela-ZM.