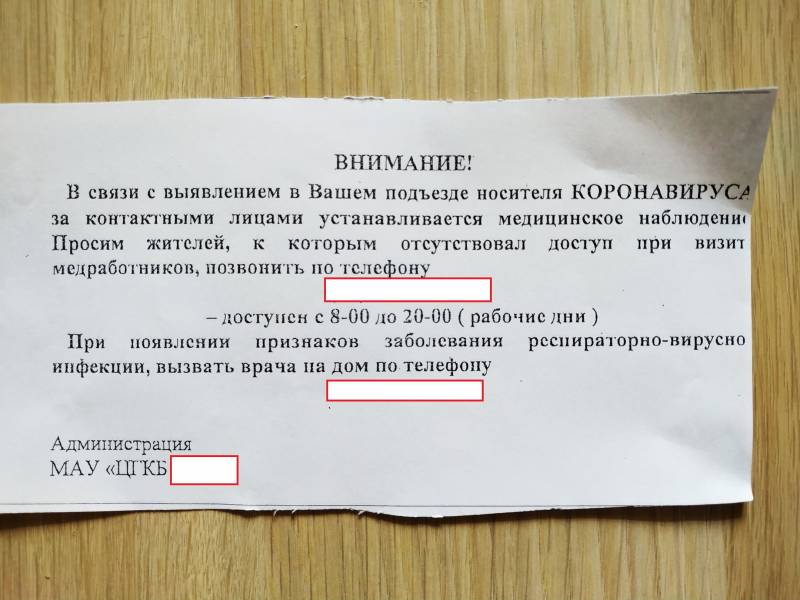 I live in one of the million-plus cities. I am on "self-isolation with salary preservation", since the work of a programmer is possible remotely. My wife is a pediatrician.
On the morning of April 28, they called the apartment. Doctors It turned out that a confirmed case of COVID-19 was revealed in the entrance.
I asked the doctor a lot of questions. Here are a few questions with answers:
- Can I attend work if the governor's decree allows the company to work?
- Yes.
- Do I need to draw up a sick leave?
- Нет.
- Wife doctor, how to work?
- Call by phone from a piece of paper.
Officials asked by phone numbers to call back twenty minutes later, because they themselves did not know, but in the end they concluded that the wife should work, but in general - at the discretion of the employer. The employer said to call a doctor, take sick leave for two weeks. But officials, when trying to call a doctor, said that no hospital wife was supposed to work.
(Readers who may be unfamiliar with
history
question, I will briefly retell what happened in the City Clinical Hospital № 1 in Yekaterinburg. According to some reports, the doctor contracted infection from a neighbor on the porch, continued to work, infected the entire hospital, after which the hospital was closed. According to others, she got infected from her husband - with the same result for State Clinical Hospital No. 1.)
So, retelling the opinions of officials to the wife's employer, we were shocked by him and promised to sort it out. Result: according to Rospotrebnadzor, the wife
has no right to work, but she is not supposed to be sick
. Like this. When asked by the employer what to do with the doctor, officials replied that this was not their problem.
Bottom line: the wife is forced to take her annual paid leave and spend it at home. She has less than two weeks of vacation, so the remainder of the period is vacation at her own expense.
I want to thank the government of the Russian Federation for helping doctors during the epidemic.