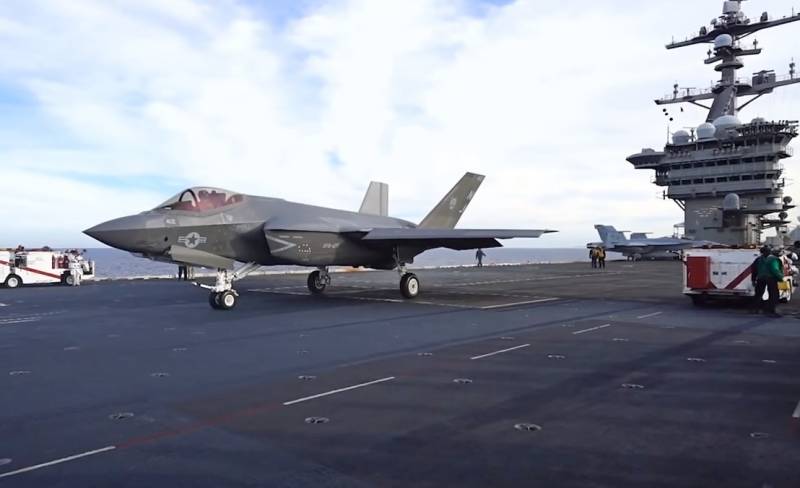 The Pentagon refused to solve one of the key problems of the F-35 fighter - when traveling at supersonic speed, there is a threat of defragmentation of the tail of the aircraft. Instead of making technical changes to eliminate this flaw, it was decided to establish restrictions on the operation of the machine.
It is reported
Defense News
.
How to close the problem
For the first time about this problem became known in 2019. It consists in the fact that at extremely high altitudes the F-35 in modifications intended for the Navy and Marines is able to fly at supersonic sound for short periods of time, since this mode of movement leads to structural separation and loss of stealth.
This problem may make it impossible for the F-35C US Navy to conduct supersonic intercepts
- writes the edition.
According to him, this problem was closed on December 17, 2019 with a "stroke of the pen" - the report on the shortcomings stated: "there is no correction plan." This wording is used in cases where the user's requirements to eliminate comments do not justify the estimated cost of the changes.
It was understood that the elimination of the defect would require a long development and flight testing of a new coating material that can withstand the impact exerted on it by supersonic for an unlimited time, satisfying weight and other conditions.
Instead, this issue is resolved procedurally by introducing a time limit on high-speed flights.
- reports the publication.
Prolonged supersonic travel is able to damage not only the tail of the glider, but also the antennas located here.
Tactical implications
It may seem terrible that an airplane purchased for flying at supersonic speeds will not be able to do this for a long period of time.
- notes Defense News.
However, as explained to the publication, expert Brian Clark of the Hudson Institute, who is a retired naval officer, unlike the F-22, supersonic sound for the F-35 is not a tactically necessary device. It is needed only in some cases and for short distances, resembling a situation when glass is broken in extreme conditions.
At the same time, Defense News gives other estimates. The retired pilot said that "restrictions on the afterburner can be fatal in melee scenarios." According to him, there is already unfavorable for the USA
historical
precedent of ignoring the melee. During the Vietnam War, a bet was made on missiles and the idea of ​​a nasal gun was discarded, which caused a surge in deaths in battle. Marine
aviation
it remembers and therefore does not trust the restrictions on afterburner.