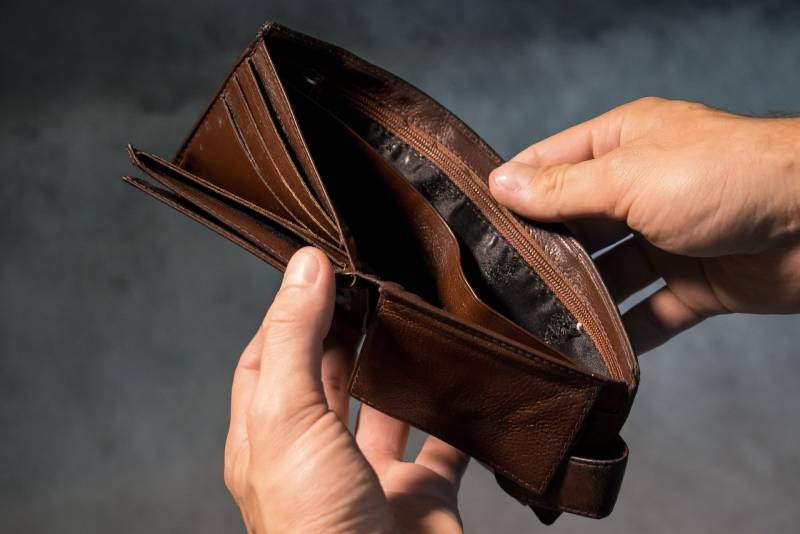 Too similar to deja vu
Today, dystopia is in great fashion. However, they have already entered our lives, we live in a bright digital future. Cameras on poles, which together with robots over the course of a day replenished the capital's penalty treasury by more than a billion, are abruptly fantastic.
That would be the same indifferent machines distributed and anti-crisis assistance! We received well-grounded applications, painted loans, subsidies and write-offs of taxes for those in need, it would be real post-crisis happiness for everyone!
"Dreaming is not bad!" - as if you hear in response from the high offices. Only targeted and only point! The guarantor doesn't just broadcast anything. So, all to save the "locomotives" of the economy and the heroes of capitalist labor! Friendly and orderly rows. You really wanted the USSR back - so get the Union in the best possible way.
A planned economy, an 8-hour, mind you, non-working day, almost optimized medicine to zero. But somehow it doesn't work with free housing - but there is a mortgage lending program at 6,5 percent per annum. And the program of salvation for those who, at a higher percentage, once got involved. Apparently, someone had already calculated their long-paid, but not yet returned credit millions, in order to compile lists as well. Lists of those whose apartments for debts will be taken.
However, here we are not talking about these lists at all. We will very briefly discuss the lists of socially significant and structurally-forming enterprises. Those to whom the state plans to provide anti-crisis assistance. Multibillion, it must be understood. According to the latest data, these lists show all those who, in one way or another, can be counted as something like a "supplier of the imperial court."
It makes no sense to disclose lists already compiled and agreed in all ministerial offices. Contrary to our tradition, all classified lists are transparent just painfully. And painfully familiar. Since the last crisis, 2008, when only 295 enterprises, companies and banks fell under the state support program. "The Chosen."
Now, on the lists, which are far from being final, the bill has already gone to thousands. In the first list, drawn up at the end of March, we recall only 646 enterprises. However, a lot - not a little, but good or bad, only time will tell. But in 2008, of course, a lot of petrodollars were sent for support, targeted and targeted, but obviously not as much as they have to be sent now.
Although why "have to"? One can imagine how many officials, in how many offices or on a remote site, are literally rubbing their hands in anticipation of "kickbacks" and "side effects" from the distribution of budgetary and extra-budgetary billions! After all, not robots, alas, will distribute colossal anti-crisis amounts.
But to what extent it would be desirable that robots do it! By which "honest" programmers will establish "honest" support programs. Where it will be "honestly" written out who lost how much and how much was lost during the crisis, and "honestly" calculated how and how much he can earn after recovery.
But the main thing is to "honestly" calculate who and how much warmed their hands during the crisis. Moreover, the fake tests for COVID-19 and idle masks for at least 50 rubles apiece under this article will go like a cheap thing. Take a breath, reader, dystopia again.
Targeted and targeted
But what are we all about the bad, about corruption, damn it. Now all the bad forecasts are being issued now, and the Chairman of the Accounts Chamber of the Russian Federation, Alexei Kudrin, believes that the Russian economy will go through the peak of the crisis and begin to recover, but in some sectors this can take at least a year.
Kudrin added that he made his estimates on the basis of the forecast, according to which GDP could fall by 6-8%. The IMF, as you know, speaks of a more than 5% drop. "But I repeat - we are very much connected with the world. Therefore, from 7% to 8% - today is probably a clearer orientation, clearer numbers, for which you can navigate, "- says the head of the main control body of the country.
And why would Aleksey Kudrin, who for many years after the main office in the Ministry of Finance and the vice-premier accustomed us to the role of a note pessimist, suddenly decided to instill such hopes in all of us? Maybe we are already tired of scaring, but most just have to go back to work? And to normal life? We will not judge here, although for the optimism anyway "thank you".
A professional economist who for many years has managed not to lose credibility in the ranks of the right and left, although go figure out who they are in Russia, he rightly noted that now
"The most difficult thing is to survive this peak ... A number of industries have already lost 100% or 90% of their consumers, the demand for their products or services."
There is hardly a need to clarify which industries the chief auditor of the country is talking about, who, by all indications, at this post began to gradually move away from ultra-liberal positions. However, I would very much like to understand why state support, targeted and targeted, will be concentrated on those who are on the very lists, not on these industries at all.
Perhaps because there are just not enough authoritative "petitioners" there? Not at all, and in culture and in sports, in transport and catering, even in tourism, there are enough "authorities", but only the lists there are very modest. The point is, apparently, in another. Someone, unlike oligarchs risking billions, today it is inconvenient to act as supplicants, but simply ashamed, and now they ask only one thing - do not rob!
Better, take an example from those who more than twenty years ago took the country out of default. With Yevgeny Primakov and Yuri Maslyukov, with Victor Gerashchenko and the now completely forgotten head of the Foreign Exchange Control Service Oleg Pavlov. And for starters, if you don't feel like printing out reserves, don't weaken currency control, but make it extremely tight.
Otherwise, soon nothing will remain in the country at all. Indeed, by no means ordinary citizens whom Ms. Nabiullina and Mr. Gref are ready to blame for all sins, namely those who are now included in the notorious lists, they will immediately begin to withdraw "state aid" to foreign accounts. Legislatively all the possibilities for this are already practically formalized.
So show your political will and close all windows and windows for the drain of capital in offshore, finally, deal with the settlement of non-payments. However, the author is not so naive - this is anti-utopia! But, nevertheless, it would be quite nice to deal with both taxes and mandatory payments, and at the same time help to support personnel who may not return.
And just do not impose your "poisonous" loans so diligently under crisis salaries, which then will be impossible to repay. You thereby only confirm that the state has money, and there is a lot of money, even a lot of it. That's why the power is even more offensive. And in general, it's better to start with just people, and not with some structures there. Structures are not people; if they die, then it's not even necessary to bury them.
By the way, instead of PS
And why now, under the threat of multimillion-dollar unemployment, not cancel the pension reform? Again dystopia? But to admit your mistakes is the lot of the strong!