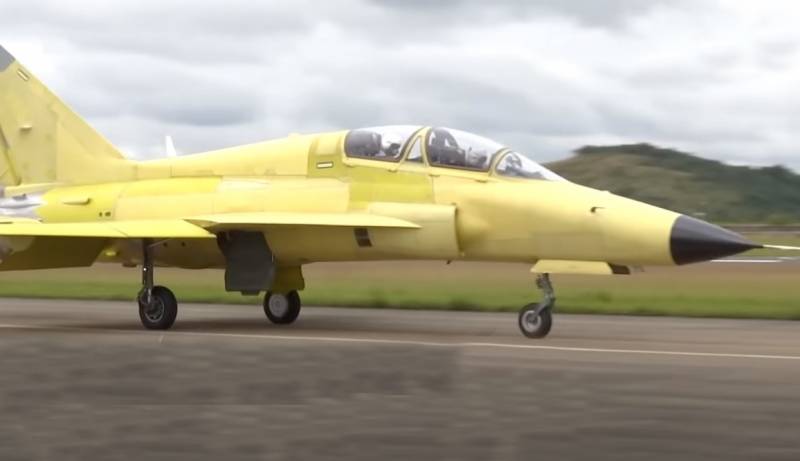 Beijing has managed to enter the lucrative market for light combat aircraft (LCA) in ASEAN: the Chinese media presented
news
on the order by an unnamed country of a batch of FTC-2000G Lead-in Fighter Trainer (LIFT) aircraft.
Who needs a Chinese masterpiece?
This machine, called JL-9 in the PLA, is largely based on the FT-7 / JJ-7 two-seat TCB (NATO designation is Mongol). According to the manufacturer AVIC, the FTC-2000G has a maximum speed of 1,4 Mach (or 1728 km / h), a maximum take-off mass of 11 tons, a maximum range of 1650 km and a ceiling of 15 km. Without additional fuel, it is able to stay in the air for two hours, equipped with "modern radars and SLAs", has 7 suspensions and a maximum load capacity of 3 tons.
In 2019, six FTC-2000s were delivered to Sudan. Some have decided that Myanmar will become the next foreign operator. However, as indicated by the Malaysia Flying Herald, "The country's air forces are in the midst of modernization, purchasing the MiG-29 supersonic interceptor, the Chengdu / PAC JF-17 Thunder light multipurpose combat aircraft, and a large number of Yak-130 UBS."
The Yak-130 has already taken on all the role that could be assigned to the FTC-2000G in the process of initial pilot training
- notes the publication, indicating that for similar reasons it was not destined to buy a Chinese car and Laos, which already has 4 Yak-130s and does not need more because of the "lack of access to the sea and external enemies."
FTC-2000G
The true price of "power"
However, the situation is different with Cambodia, which has a "bitter relationship" with Thailand and Vietnam. Hanoi, hiding in the air of the Su-30, is at odds with its ally, China.
At the same time, Cambodia has only five L-39s and two MiG-21-2000s (Israeli modernization). The remaining machines, as noted by the publication, are in disrepair. Against this background, the Chinese media present the FTC-2000 as a "powerful fighter." According to the Malaysia Flying Herald, he will only perform in such a collision with the Vietnamese Su-22, F-5T Tigris and KAI T-50TH Golden Eagle.
However, pointing to this, it should be understood that the FTC-2000G will become a "jet food" for the Vietnamese Su-30 (Su-30MKM)
- concludes the publication Malaysia Flying Herald, noting that the Chinese car has nothing to oppose and
aviation
Thailand, if there will be an air battle with the F-16 Fighting Falcon and SAAB JAS-39C / D Gripen.
At the same time, one should pay attention to the experience of the pilots: "Cambodian pilots are clearly not enough of the valor obtained during the preparation".
Su-30MKM