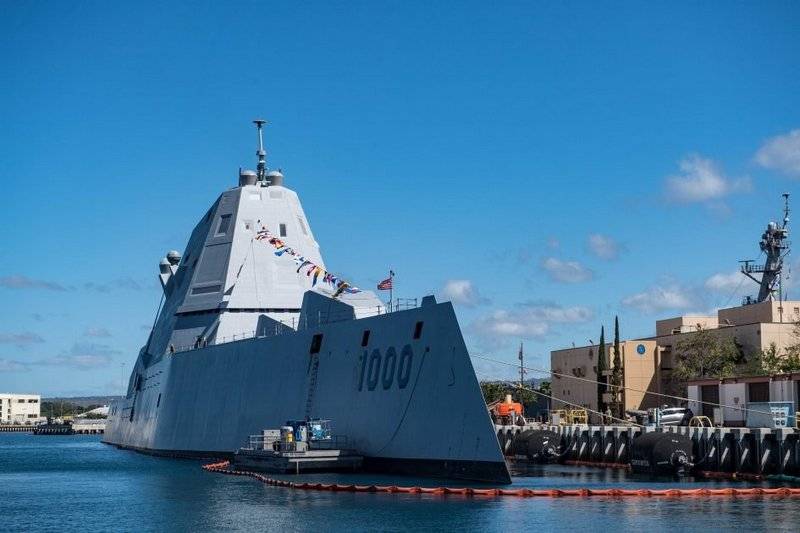 The new destroyer head squadron DDG 1000 Zumwalt is officially inducted into the U.S. Navy. The ceremony took place on April 24, 2020 in San Diego.
According to the press service of the American
fleet
, the decision to introduce the destroyer into the combat force was made after the activation and commissioning of the main combat systems of the ship. Zumwalt is a member of the 1st Test Division of Surface Ships (Surface Development Squadron 1 - SURFDEVRON) of the US Navy Pacific Fleet. Prior to this, the ship was in the testing phase from October 15, 2016, when the destroyer was handed over to the fleet.
It is clarified that the change in the status of the destroyer will not affect either the crew or the fleet itself, except that the ship will be included in the combat structure. As explained in the Navy command, Zumwalt will continue to undergo complex tests, preparing for the advanced tests planned for next year. But according to the results of the expanded plans, it is planned to declare the destroyer to have reached the initial operational readiness and to include it directly in the combat strength of the fleet.
The new generation DDG 1000 Zumwalt lead destroyer was built for the U.S. Navy under a U.S. Department of Defense contract received on February 14, 2008. The official bookmarking ceremony took place on November 17, 2011, launching on October 28, 2013, the first access to the sea for factory sea trials on December 7, 2015. The ship was formally received by the U.S. Navy at the shipyard builder on May 20, 2016, and on October 15, 2016 in Baltimore, the ceremony of the official transfer of the destroyer of the Navy took place.
Recall that initially the Pentagon planned to build a series of 32 destroyers of the DDG 1000 Zumwalt type, but in 2009 it was decided to limit the series to only three ships because of the too high cost (the lead Zumwalt cost $ 4,4 billion). The total cost of the program for designing and building three ships and creating systems for them is now estimated at $ 24 billion.
Currently, the Navy can not decide exactly where to use these warships. If initially they were positioned as effective surface-based means of launching missile strikes, then they decided that they should be used as support ships for landing operations.