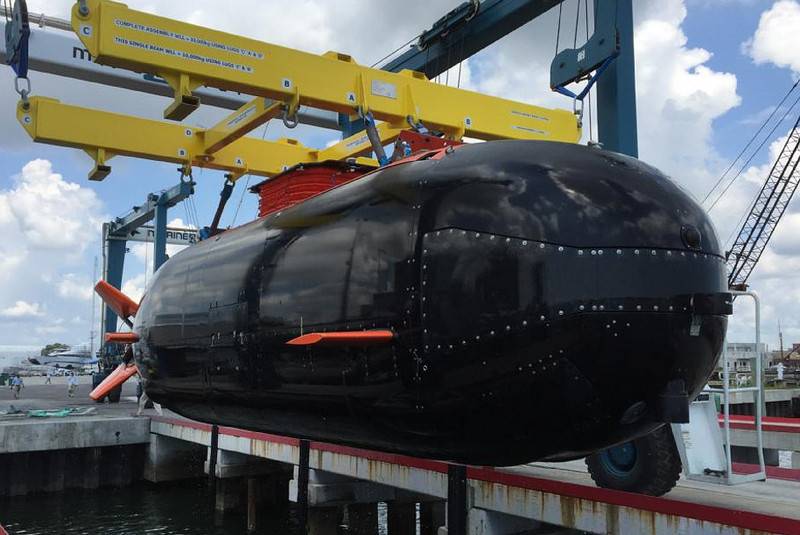 The US Special Operations Command (USSOCOM) received the first Dry Combat Submersible (DCS) submarine transporter. This was reported by the press service of the General Atomics Corporation.
As reported, the new device is a carrier of the "dry type", i.e. combat swimmers are isolated from sea water and breathe the air of the submarine. Capacity - 2 crew members + eight combat swimmers with additional equipment. According to official information, the total underwater displacement is 30 tons, length - 12 meters, autonomy and time spent under water for 24 hours, range in underwater position 60 miles at a speed of 5 knots, immersion depth (working) - more than 36 meters, limit - 100 meters.
The electric motor is powered by a modular lithium-ion battery type Lithium-ion Fault Tolerant (LiFT).

The device is designed to transport combat swimmers of the Special Operations Forces. The device can be based on board surface ships and nuclear submarines. DCS was developed to replace the ASDS submarine, built by Northrop Grumman in one model in 2000, but ultimately considered unsuccessful. The reason for the failure was too large - a length of 20 meters and a displacement of 60 tons.
Currently, the American MTR received only one of the three units ordered in 2016, the tests of the second were reported in July 2019. No information is available on the third vehicle, but it is reported that if all three mini-submarines are tested successfully, a significant number of such vehicles can be ordered.