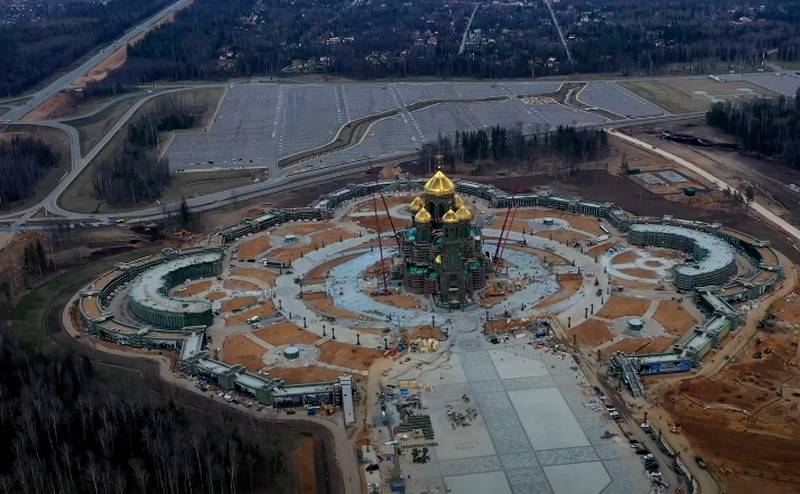 The Russian Orthodox Church considers the appearance on the walls of the main church of the Armed Forces of the Russian Federation of mosaics depicting mosaics depicting the first persons of the state, in particular, Vladimir Putin, Sergei Shoigu, Joseph Stalin and others. This was told by the Chairman of the Expert Council on Church Art, Architecture and Restoration of the Russian Orthodox Church, Archpriest Leonid Kalinin.
According to the representative of the church, a mosaic will appear on the walls of the temple, on which will be displayed
historical
events. Among them there are mosaics dedicated to the Victory Parade of 1945, the annexation of Crimea, as well as others. It would be strange if the mosaic dedicated to the Victory Parade did not have an image of the Supreme Commander-in-Chief Joseph Stalin, and the mosaic about the annexation of Crimea by those who made the fateful decision.
The Art Council considers these images to be absolutely appropriate, reflecting the historical truth, from which pages cannot be pulled out arbitrarily
- said the archpriest, adding that these images are not icons and do not apply to the church.
At the same time, it is clarified that not all members of the expert council of the Russian Orthodox Church agreed with the image of Joseph Stalin in a mosaic dedicated to the Great Patriotic War of 1941-1945, but the decision was made, since this is Russian history.
Not everyone likes this, including members of the Art Council not everyone likes (...) from history we cannot tear out this page and don't give back to the person who served this Victory in many ways, we also cannot. (...). He was the supreme commander in 1941-1945, how can we throw him out when it comes to the Victory Parade? (...) in the military church dedicated to the Victory in the Great Patriotic War, the Victory Parade is necessary, therefore, Stalin there - forcedly, maybe
- explained Kalinin.
The construction of the temple of the Armed Forces of Russia in Kubinka near Moscow is dedicated to the 75th anniversary of Victory in the Great Patriotic War. On its walls there will appear mosaic panels dedicated to various historical events, including battles and wars, starting from the Kulikov field and ending with Syria, most will be devoted to the Great Patriotic War.