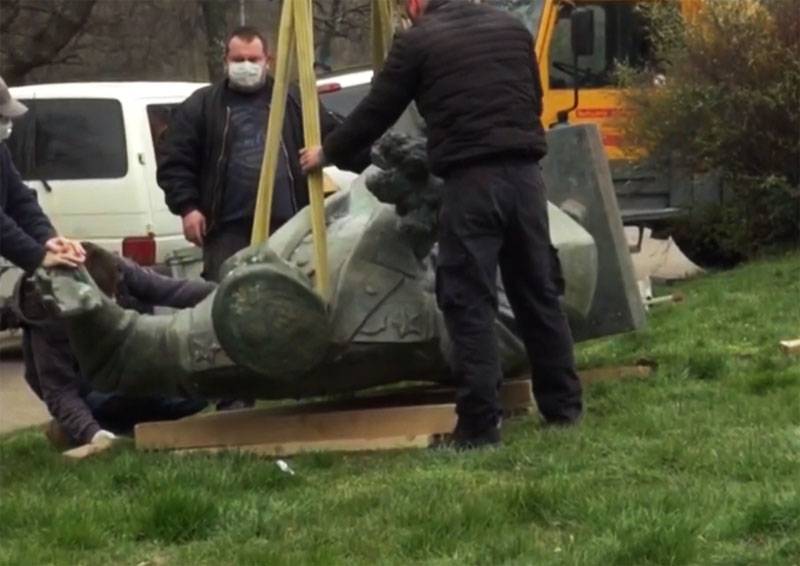 The Czech edition of Aktuálně published material on the situation related to the demolition of the monument to Marshal Ivan Konev. The monument, as previously stated in the Czech Foreign Ministry, was dismantled by decision of the authorities of the Prague-6 region.
The author of the material in a Czech newspaper writes that the monument is treated "with all due respect."
From the article:
It is not damaged, it was covered with a canvas. It is located next to works of art that are owned by private collectors, as well as the state. These items are waiting for them to find a suitable place in the exhibition.
We are talking about a warehouse in the village of Meszyca, which is 15 km from the Czech capital.
Author:
The monument is inside. It is protected from ultraviolet radiation, special technologies help maintain the required temperature and humidity. The territory is guarded around the clock.
With these words, the author of the material in a Czech newspaper is clearly trying to justify the dismantling of the monument and its transportation to the warehouse. The words about "protection from ultraviolet radiation" are perplexing, on the basis that the monument has stood in the open air for decades, and, as it turned out, ultraviolet radiation is definitely not the most important thing that threatened it.
The article reports that the statue will remain in stock until the opening of the XNUMXth Century Museum. When exactly this museum will be opened, no one can say today in the Czech Republic.
Author:
Prague-6 will pay for the storage of the monument all this time. Now it costs her 12 thousand crowns per month (this is about 35 thousand rubles, - approx. "VO").
The statement of the deputy head of the Prague-6 district is given:
We decided to remove the monument, because supporters and opponents gathered near it, and this led to clashes. And at first we did not want to go for dismantling, but were going to attach a sign to the marshal's monument telling about the dark pages of his career.
The head of Prague-6, Ondzhej Kolarzh, said that he "repeatedly proposed to Russia to pick up the monument." According to Kolarge, now the municipality has refused to communicate with the Russian Embassy.
Collage:
We proposed to them in August last year to conduct constructive negotiations. And again they offered them a monument. But we never received an answer.
Earlier in Prague, it was announced that they had decided to put personal guards at the Collage "because of threats against him."