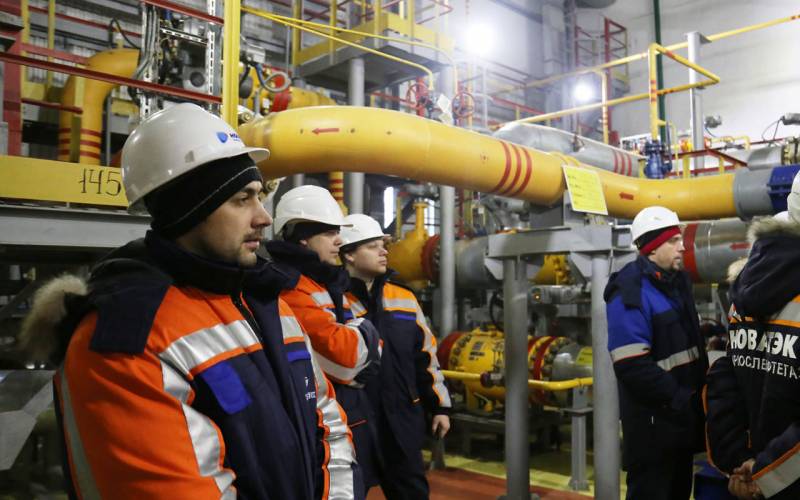 Brent crude oil after reaching the mark of almost 23 dollars per barrel again returned to the fall, which some experts already call "familiar". At the moment, a barrel of oil of this brand is sold at a price of about $ 20,9. The price of WTI and Urals oil is significantly lower.
Against this background, Deutsche Bank decided to predict the "depth" of Russian financial reserves in case of a long stay of oil quotes at low levels. According to analysts at Germany's largest bank, at a price of $ 15 per barrel for the Russian brand of oil, Russia's NWF reserves will last no more than 2 years. An indicator of six years, experts call at a price of Russian brand oil at $ 30 per barrel.
So far, the price of a barrel of Urals has fluctuated around 10-12 dollars per barrel, which is the record for recent decades. Throwing price. By the way, by the way, too.
About NWF in numbers
So what does the NWF prepare for us ...
As of March 1, 2020, the amount of funds in the National Welfare Fund of Russia amounted to 7,3% of GDP or 8 trillion 249 billion rubles. This is the maximum value since December last year, if we talk about the percentage of GDP, and the maximum for the whole
history
the existence of the NWF, if we talk about the ruble mass (excluding inflation). In dollars, the indicator was (as of March 1) 123,4 billion.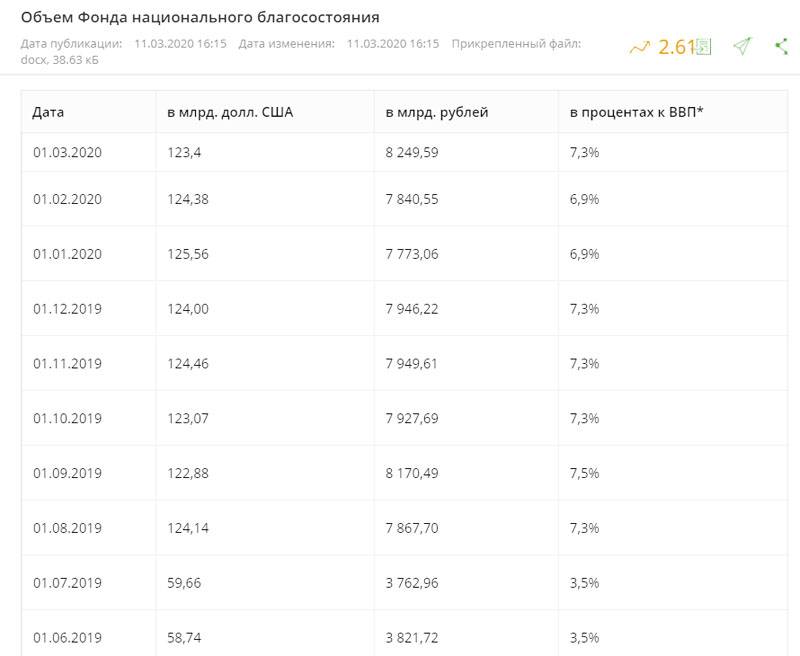 Experts in Russia believe that today the ruble is optimally formed for the Russian economy against the dollar at such low oil prices. This made it possible to bring the ruble equivalent of the NWF to record levels, which in turn allows the state to fulfill its social obligations.
However, in any case, $ 10-12 per barrel of Urals oil is too low to be counted on for SWFs in our country for years. The dependence of the country's economy on oil prices is still very significant, and in a pandemic, when other sectors do not provide the opportunity to receive optimal revenues to the state budget, the situation looks at least tense.
However, in such a situation, the Russian authorities have a new perspective ... or an excuse - to pay attention to internal affairs - to stimulate domestic demand, which will spur domestic production, infrastructure development, and will save jobs.
One of the directions is to finally start implementing gasification projects for territories where Gazprom and Novatek didn't step, and if they did, it was only to lay the pipeline by - to Europe or China. and they will provide stable profits (after all, it has never been decided to write off debts to our citizens ...), and the regional economies will be given a new impetus.