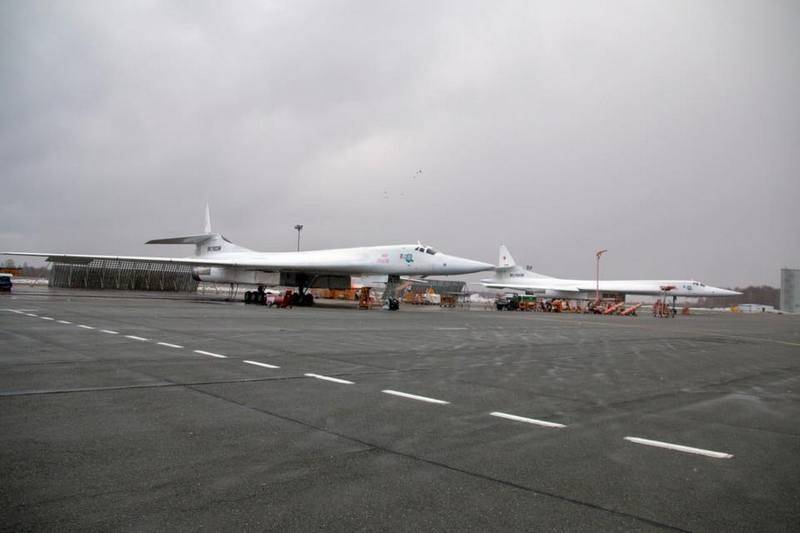 The Russian Ministry of Defense received two modernized strategic missile carriers Tu-160 "White Swan", the transfer took place at the airport of Kazan Aviation Plant. This was reported by the press service of the military department.
Specialists of 264 military representation of the Ministry of Defense of Russia at the Kazan Aviation Plant named after Gorbunov received two strategic missile carrier Tu-160 "Ivan Yarygin" and "Vasily Reshetnikov
- said in a statement.
It is reported that in the course of work on aircraft, inertial navigation and engine control systems, as well as weapons devices using modern digital technologies, were modernized. It is assumed that the strategists were able to carry 12 new strategic X-101 / X-102 cruise missiles deployed on two new six-shot revolving rotary launchers.
After modernization, both aircraft passed the necessary ground and flight tests.
Tu-160 - a supersonic strategic missile carrier with variable wing geometry. Designed to hit nuclear and conventional
weapons
the most important targets in the remote military geographical areas and the deep rear of the continental theaters of war. Adopted in 1987. Able to carry 40 tons of bomb load at a distance of up to 14 thousand kilometers. Tu-160 is capable of speeds of over 2200 km / h.
Earlier, the Ministry of Defense reported that 15 combat missile carriers Tu-160 VKS of the Russian Federation should undergo modernization and ten new strategists Tu-2027M ​​were built by 160 with the start of deliveries in 2023.