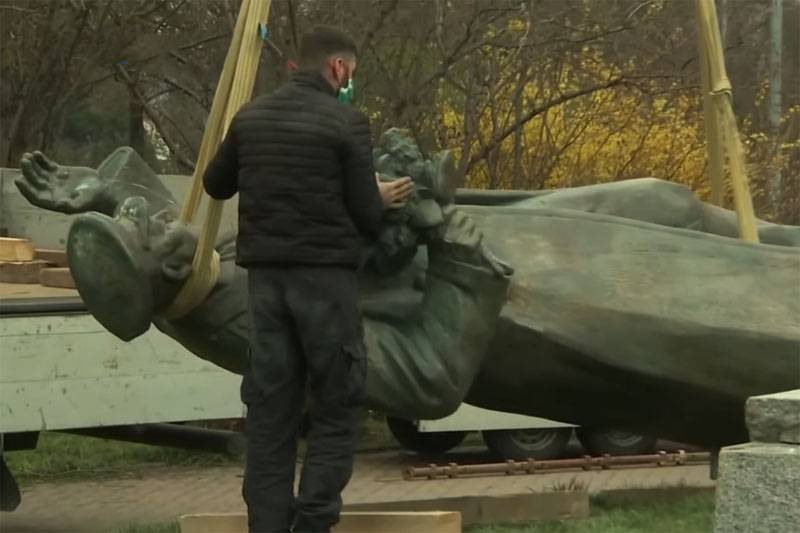 A large German publication, Süddeutsche Zeitung, published material that describes the situation with the monument to Soviet Marshal Ivan Konev dismantled in Prague. The author of the article, Victoria Grossmann, tells German readers that it was Ivan Konev who commanded the troops liberating Prague from the Nazis. It is also reminded that the troops under the command of Konev also released the prisoners of Auschwitz.
At the same time, the German author notes that in the Czech Republic they often talk about the participation of Marshal Konev in the suppression of the Prague Spring. Grossmann adds that this is a controversial statement, since in 1968 the Soviet marshal exceeded 70.
The author of the article in a German newspaper voices Russia's position on the demolition of the monument. According to her, Russia is outraged by what happened.
From the material:
This could result in a serious diplomatic crisis.
At the same time, Victoria Grossmann claims that the head of the municipality of Prague-6 previously allegedly "offered the Russians to pick up the statue of Marshal Konev and place it on the territory of the Russian Embassy in Prague."
This information is not verified.
The author of the material notes that the Prague authorities sent the dismantled monument to the warehouse.
Meanwhile, the French press recalled the "inappropriate rhetoric" of the representatives of the Prague municipality. This rhetoric consisted of the following: one of the representatives of the local authorities stated that the monument was dismantled, since it did not have a medical mask, "which is very dangerous."
Recall that now the Czech press announces the danger to the local authorities in Prague "because of Russian threats against those who decided to dismantle the monument to the Soviet Marshal."