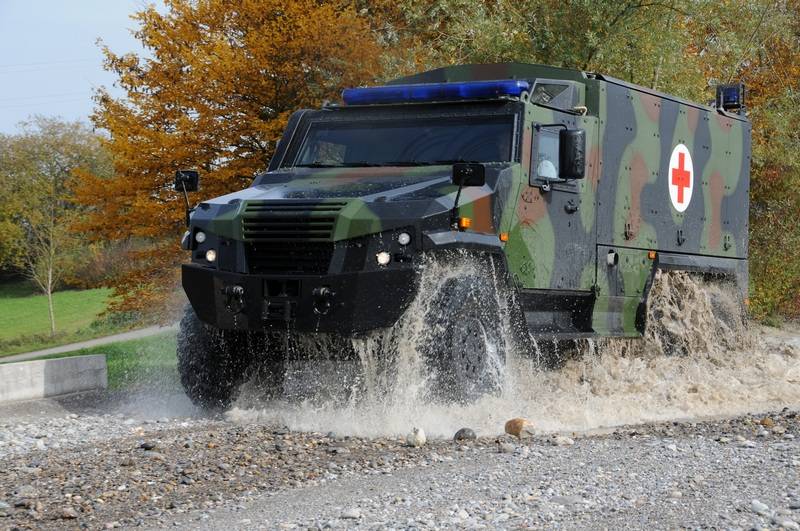 German Bundeswehr buys armored vehicles Eagle 6x6 in the medical version. A contract worth € 148 million was entered into with General Dynamics European Land Systems-Mowag (a Swiss subsidiary of General Dynamics Corporation).
According to the contract concluded on April 15, the Bundeswehr will receive 80 new Eagle 6x6 wheeled armored vehicles. Delivery should begin in 2021 and end in 2024. The Swiss armored cars will be converted into a medical version at German enterprises in Kaiserslautern and Sembach.
Reportedly, the Eagle 6x6 armored car is a triaxial version of the General Dynamics European Land Systems-Mowag armored vehicles Eagle V with a 4x4 wheel structure with enhanced mine protection (MRAP). Earlier it was reported that the Swiss army ordered one hundred Eagle 6x6 armored vehicles in the reconnaissance version.
The total combat weight of the Eagle 6x6 is 15 tons, length - 7 meters. The armored car can accommodate 14 people (maximum). A 6-liter Cummins ISB6.7 E3 6,7-liter diesel engine with 285 horsepower combined with a 5-speed Allison 2500 SP automatic transmission is installed. Speed ​​on the highway up to 110 km / h, range up to 700 km. The internal height of the airborne compartment in the version of the medical machine is 1,8 m.