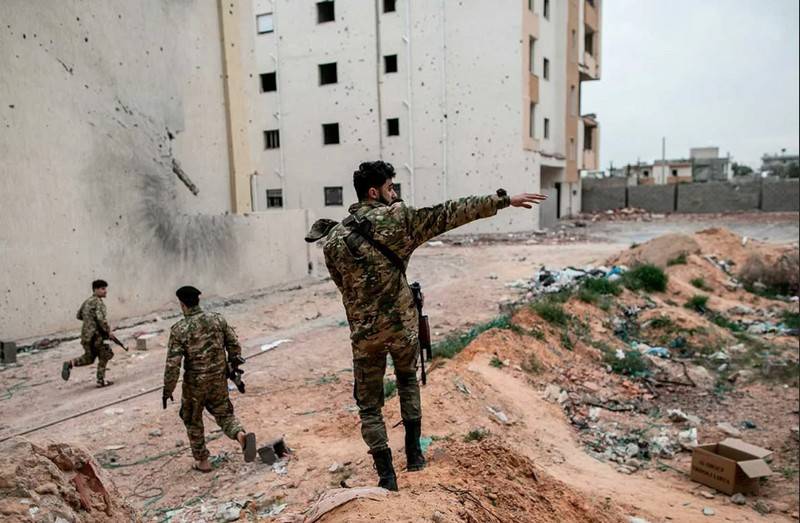 Russian mercenaries from a private military company (PMC) Wagner used against the forces of the Libyan government national consent "chemical
weapon
". Such an accusation was made by the head of the Ministry of Internal Affairs under the PNS Libya Fathi Bashag, writes the Turkish publication Anadolu.
Speaking at a press conference in Tripoli on April 22, Bashaga said that mercenaries from the Russian PMC Wagner, fighting on the side of the Libyan National Army (LNA) Haftar, allegedly used "nerve gas" against units of the "forces of the internationally recognized Government of National Accord "(PNS) Faiza Sarajah. The Interior Minister claims that the use of "chemical weapons" occurred in the Salahaddin region south of Tripoli.
Wagner-related militias use nerve gas against our armed forces in the Salahaddin area south of Tripoli
- leads the Turkish edition of the word Bashagi.
At the same time, no other details of the alleged use of "chemical weapons" by Russian mercenaries from PMCs are given, nor is evidence of a "chemical attack."
For our part, we note that the Government of National Accord settled in Tripoli Faiz Saraj actively cooperates with Turkey, whose president has repeatedly criticized the presence of "mercenaries from the Russian PMC Wagner" in Libya. Erdogan accused PMC fighters of conducting military operations on the side of the HNA Haftar against the "recognized government of Libya."
Khalifa Haftar is supported by Abu Dhabi and Cairo. The United Arab Emirates and Egypt supply arms to Haftar. On his side are also Russian mercenaries of PMC Wagner. I do not understand how to support a person trying to overthrow the legitimate authority in Libya
- said the Turkish leader.
Meanwhile, Ankara continues to transfer pro-Turkish militants from Syria to Libya, and also supplies weapons, ammunition and military equipment to PNS units.