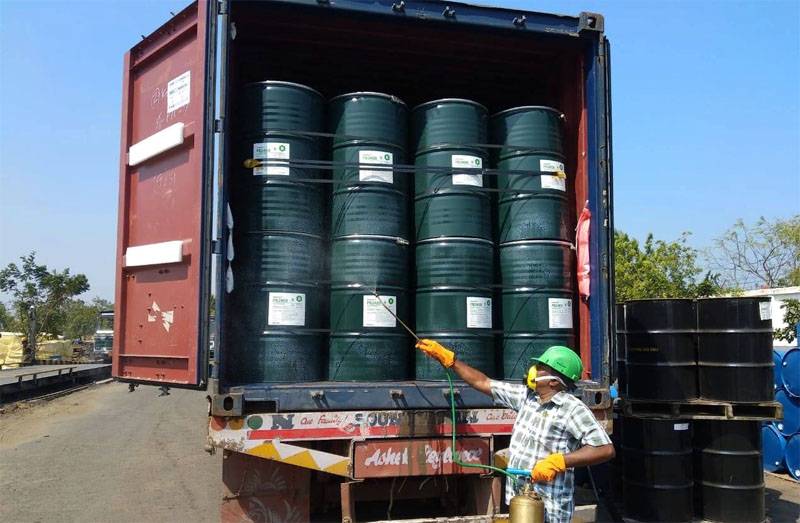 In India, authorities were criticized for the fact that the country cannot take full advantage of the unique situation associated with extremely low oil prices. Representatives of opposition circles, as well as the oil refining industry, say that at a time when oil is actually traded at bargain prices, India has the opportunity to acquire substantial oil reserves and fill up storage facilities. But what is the problem?
And the problem, allegedly, is that the volume of such storage facilities in the representatives of the oil refining industry is small.
In the Indian media:
There is a shortage of oil storage facilities.
It is noted that in conditions when it would be possible to create an impressive reserve of hydrocarbons, refineries are forced to reduce production by up to 50 percent. The reason is the low demand for fuel, the fullness of existing storage facilities.
By the end of the week, about 19 million barrels of oil will be transferred to India in the still free parts of storage facilities. One of the country's largest storage facilities is located in Padura.
Indian crude oil imports averaged around 4,5 million barrels per day in 2019. India planned to increase import of "black gold".
Separately, it is said that if the situation does not change, then all Indian stores will be crowded by the end of May. A paradoxical situation will arise on the market - one of the major oil consumers (India) wants to purchase oil (due to extremely low prices), but cannot afford it due to the lack of free storage capacity. And it will either have to run the refinery at full capacity, which is economically unprofitable due to a significant drop in demand (the fuel that has already been produced will have to be sent to storage facilities, as it will not be bought up), or it will temporarily refuse further oil imports. Any of these cases could cause an even greater drop in oil prices.
In this regard, the Government of India is criticized for the fact that at one time it did not subsidize the creation of a larger number of hydrocarbon storage facilities. The management of the oil refinery complains: "We cannot take full advantage of the collapse in oil prices, just as we cannot take advantage if the drop in oil prices is even more significant."
Only the increase in demand for fuel can save the situation. And this is directly related to the growth of economic activity not only in India, but throughout the world. But then the oil price will jump, which will not be profitable for India.