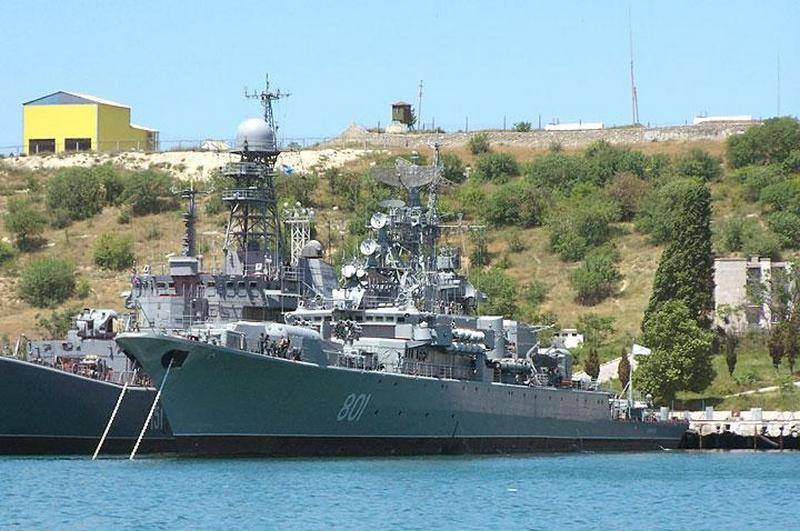 The composition of the Black Sea
fleet
one of the "veterans" is returning - the patrol ship of project 1135 (code "Petrel") "Okay". The ship will go to sea in mid-May. This was reported by Izvestia with reference to the Ministry of Defense.
According to the publication, the repair of the Ladny patrol ship, which lasted from 2016, is ending and by mid-May the ship should return to the 30th division of surface ships of the Black Sea Fleet.
It is reported that during the repair on the ship, the marching engines that have exhausted their life have been completely changed, the final adjustment of the main power plant is underway. The ship was restored full field readiness. Some changes to the hull design are also reported. There is no information on the replacement of weapons.
Back in 2016, it was announced that on the Ladny marching engines from the anti-submarine ship Kerch, which did not go to sea after the 2014 fire, would be installed. Completely new turbines were installed on the Kerch, purchased from Ukraine before the Maidan coup, and the ship itself suffered from a fire during the repair and a decision was made to write it off. At the same time, the Ladny turbines have fully exhausted their resources.
Project 1135 patrol ship (code "Petrel") "Ladny" was laid down on May 25, 1979 at the Gulf Shipyard in Kerch, launched on May 7, 1980, and was included in the Black Sea Fleet on February 25, 1981. Displacement - 3200 tons, hull length - 123 meters, width - 14,2 meters. Speed ​​- up to 32 knots, cruising range - 5000 miles. Crew - 197 people.
Engine: 2 gas turbine units of 18000 hp, 2 screws.
In service: the URPK-5 "Rastrub" universal missile system, two AK-76,2 twin 726 mm gun mounts, two Osa-MA-2 air defense launchers, two four-pipe 533 mm torpedo tubes and two RBU- rocket launchers 6000.