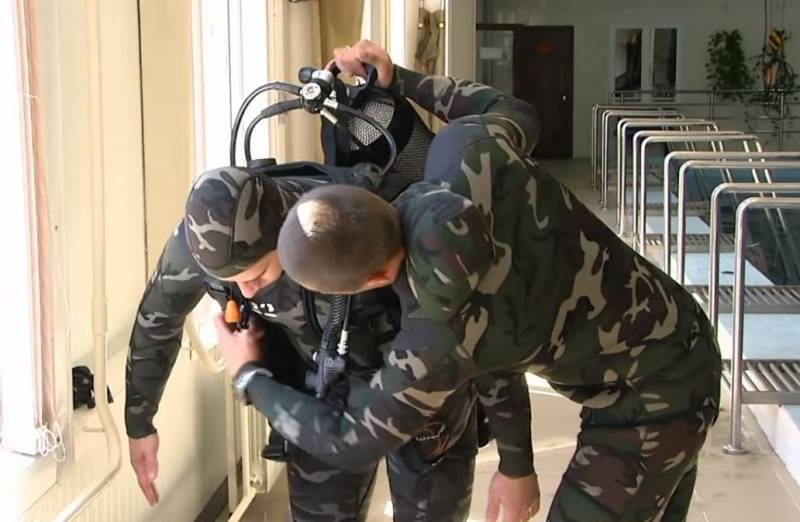 A few meters from the seashore are classrooms, training complexes and special classes of the Department of Diving and Special Training of the Faculty of Coastal Missile and Artillery Troops of the Central Military Technical University. This allows the teachers of the Black Sea Higher Naval School to give cadets theoretical knowledge, without taking them from practical exercises.
About this newspaper
"A red star"
said the head of the department, captain of the first rank Vladimir Beregovoi.
In an interview with reporters, he shared the features of training combat divers for special units of the Naval
fleet
Russia.
The educational buildings of the department were located at the installation site of the submarine of the 15th series. It was installed back in 1959. The submarine is divided into three compartments, one of which is used for training cadets to combat water, and the other two are used to train the emergency exit of divers through a torpedo tube and a rescue device.
The whole department is built of ship elements, which creates a special atmosphere for cadets. In particular, during the construction of the upper part of the department, elements of the cruiser superstructure were used.
The officers who completed the training are well prepared, first of all, to deal with the enemy attacking from under the water.
Vladimir Beregovoi noted that in the preparation of future fighters of underwater special forces, priority attention is paid to compliance with safety requirements:
Many mistakenly believe that a diving specialty is very dangerous. But it will be such only when you do not comply with safety requirements and do not follow the established rules.