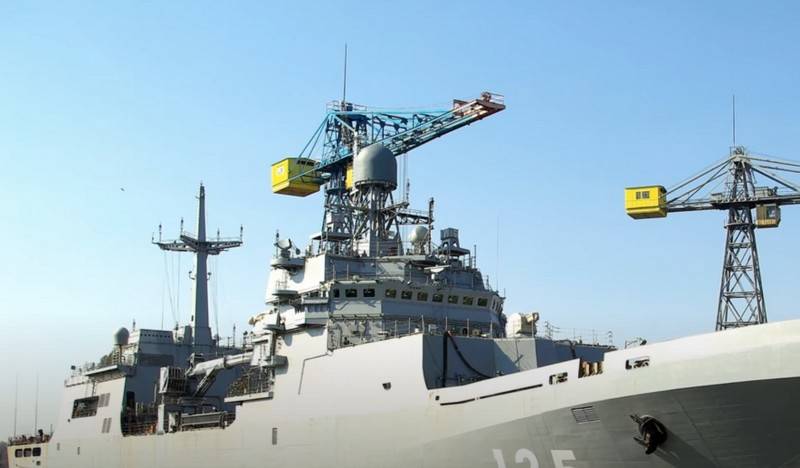 The resumption of factory sea trials of the Peter Morgunov BDK was postponed two weeks later and will occur closer to early May. This was reported by TASS with reference to a source in the shipbuilding industry.
According to the source, the BDK access to the ZHI is scheduled for early May, and given the situation with the coronavirus and the upcoming May holidays, the ship is likely to go to sea no earlier than the middle of the month. At the same time, the agency's interlocutor did not specify the reasons why the BDK interrupted the tests and arrived at the Yantar shipyard in the Baltic states.
According to the new plans, the agricultural laborers may resume in early May, but given the succession of holidays, this is likely to happen in the second decade of May.
- leads TASS source words.
Earlier it was reported that at the end of March, the Peter Morgunov BDK, which underwent combined factory sea trials and state tests at the Baltic Sea test sites, interrupted them and headed to Kaliningrad for the Yantar Shipyard, which built the ship. Then the reason for stopping the tests was named - carrying out finishing work at the BDK, which was not specified.
According to the plans announced earlier, the BDK was supposed to finish the sea trials by mid-April and immediately switch to the state, so that in May it would become a part
fleet
. Now, according to the announced new plans, the end of the full test cycle is postponed indefinitely, as well as the deadline for the delivery of the ship to the customer.
BDK "Peter Morgunov" is the second ship of the project 11711 and the first serial after the lead BDK "Ivan Gren". Laid down in June 2015 and launched on May 25, 2018. The construction of the ship was carried out with delays, since it was necessary to correct the mistakes made in the design of the lead ship.