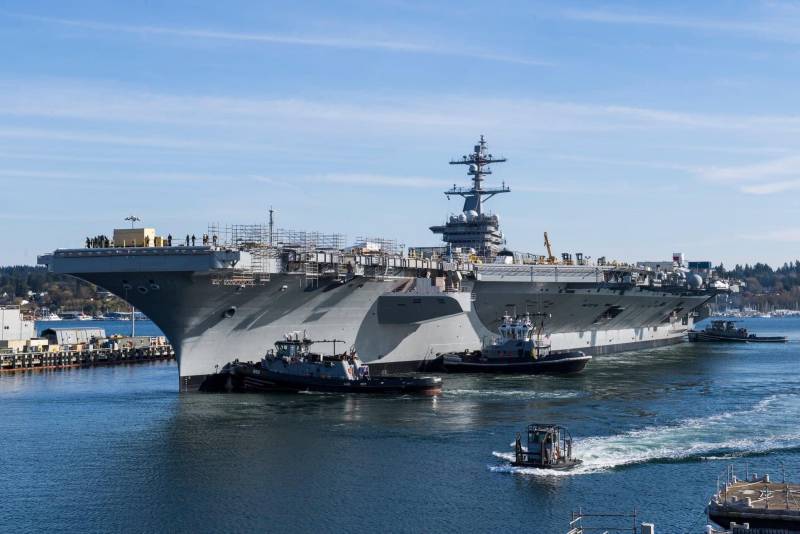 In the American edition of The National Interest came out material that describes the Pentagon's plans for the American aircraft carrier
fleet
.
The article reports that the plans of individual representatives of the US military department provide for reducing the fleet of aircraft carriers by 2 units - up to 9 aircraft-carrying warships. Today, the U.S. Navy includes 11 aircraft carriers.
With the funds generated as a result of such a reform, the US Navy plans to equip the latest frigates and robotic corvettes.
Such Pentagon plans cannot be implemented without the approval of the US Congress. However, the Navy intends to present important arguments in favor of the fact that the carrier fleet needs to be reformed. And this despite the fact that earlier the US Secretary of Defense Mark Esper declared the need for the fleet at least 12 aircraft carriers.
NI provides data from the report of the Center for Strategic and Budgetary Assessments of the United States. The report says that robotic corvettes and the latest destroyers could add efficiency to the US Navy in order to avoid missile attacks from China. At the same time, it is noted that for completely unmanned ships there will be high risks of being trophies of the enemy. The probability of using electronic countermeasures against them is taken into account.
From the report:
The fleet can buy an additional 15 frigates in addition to the 20 frigates that it has already contracted.
This proposal has already caused heated debate. In the near future, the situation with the aircraft carrier fleet can be discussed in detail - with a report to Congress.