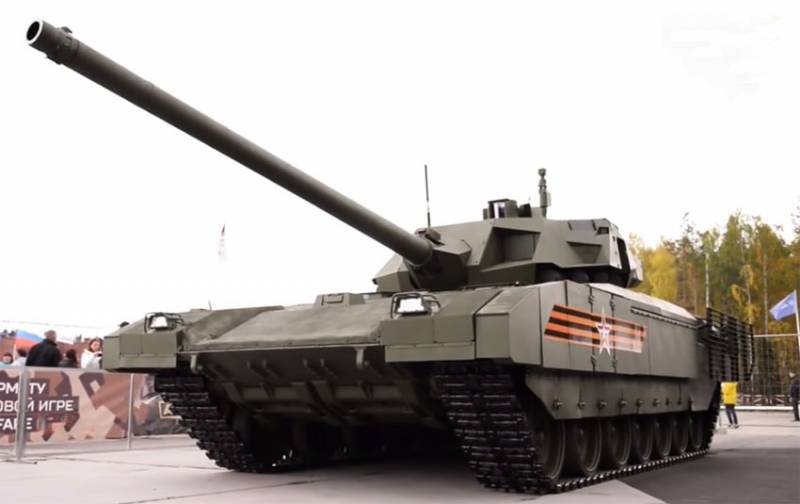 The European press publishes assessments of the statement made by the head of the Russian Ministry of Industry and Trade Denis Manturov about the tests of the latest
tank
T-14 Armata in the SAR. A particularly lively reaction to such a statement by a Russian official was shown in the Polish media.
Browser Mateusz Zielonka told readers that about two dozen armored vehicles on the Armata platform have been produced in Russia today. These are the T-14 and BMP T-15 tanks. At the same time, the author recalled that by the end of 2021, the Russian Armed Forces intend to supply 132 units of such equipment.
Material with information about the tests in Syria of the T-14 Armata tank caused a wave of discussion among Polish experts and ordinary readers.
Among the comments you can find both sober assessments and frank attempts to laugh at the fact that so far the T-14 has not been put into service with tank units of the Russian Armed Forces.
One of these comments in the Polish edition of Defense24:
It was supposed to commission 2300 of these armored vehicles. But now everyone knows about failure. The only thing that can be said: the first of them (tanks) will not fall to the ground, as was the case with Su (57).
A few other comments:
And I do not think that the Russian Ministry of Defense itself believes in the feasibility of plans for the supply of T-14 in the amount of 300-400 units by 2027, otherwise they would not have ordered a large batch of T-90M.
They appreciated our capabilities and realized that 300 pieces would be enough.
Another user recalls a video recently released on one of the Western resources and states that the T-14 is a tank with a weak stabilization system.
We are talking about a video where the cutting of shots from the Abrams tank, as well as Russian T-14, Chinese and Korean tanks, was demonstrated. An unknown author tried to show that the American tank "surpasses" other tanks in stabilization.
Another comment:
Actually, why did they send the T-14 to Syria. In Russia itself there are many arid regions. Or they want both with the S-400, which simply stand and do not shoot at anyone.
Apparently, the Polish author of this comment believes that if an air defense system is deployed on the ground, then it must be fired day by day.