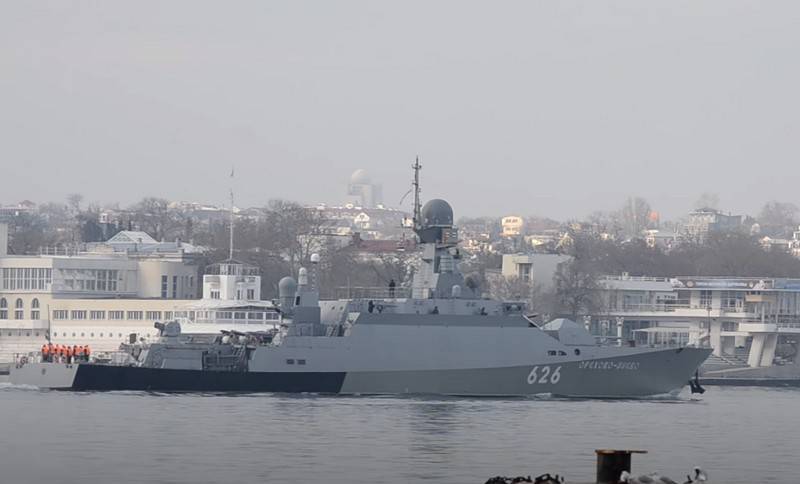 The permanent grouping of the Russian Navy in the Mediterranean Sea will be replenished with a small missile ship of the Black Sea
fleet
"Orekhovo-Zuevo" project 21631. Currently, RTOs resembles the Black Sea straits of the Bosphorus and Dardanelles. This was reported by the press service of the Black Sea Fleet.
RTO "Orekhovo-Zuevo" Black Sea Fleet began passing the Black Sea straits of the Bosphorus and Dardanelles. The crew of the ship makes a planned transition from Sevastopol to the Mediterranean Sea, where it will become part of the forces of the permanent grouping of the Russian Navy in the far sea zone. It is planned that today, by the end of the day, Orekhovo-Zuevo will become part of the permanent forces of the Navy in the Mediterranean
- said in a statement.
Earlier it was reported that the composition of the group left and returned to the main base of the Black Sea Fleet of Sevastopol two frigates of project 11356 Admiral Makarov and Admiral Essen.
The small rocket ship Orekhovo-Zuevo is the seventh serial ship of project 21631 (code "Buyan-M"), built at JSC Zelenodolsk Plant named after AM Gorky, and the second built for the Black Sea Fleet. The missile systems of this project are multipurpose ships of the river-sea class, equipped with modern models of artillery, missile (KR "Caliber-NK" or "Onyx"), anti-sabotage, anti-aircraft and radio-technical weapons. The purpose of the ships of this project is to protect and protect the economic zone of the state.
Key Features: Displacement 949 tons. 74,1 meter length, 11,0 meter width, 6,57 meter height, 2,6 meter draft. A water jet is installed, providing the speed of 25 knots. Sailing distance to 1500 miles. Autonomy 10 day. Crew from 29 to 36 people.