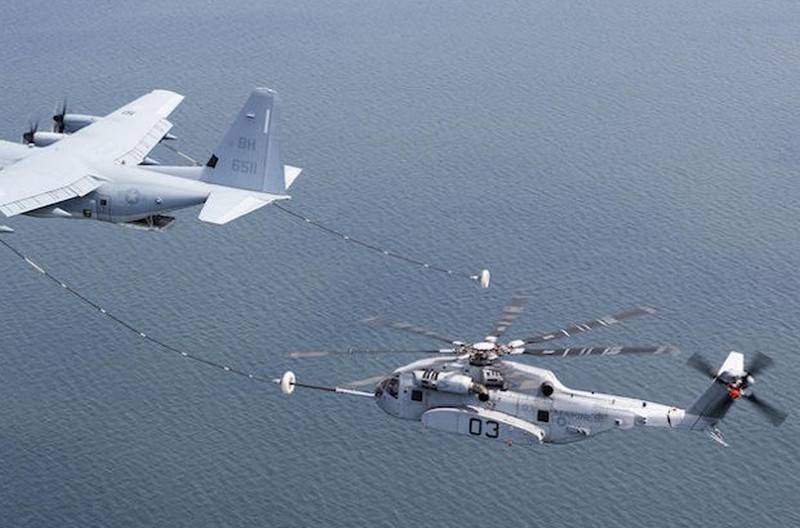 The heavy transport helicopter CH-53K King Stallion was tested for refueling in the air. According to Defense Aerospace, the tests were carried out by the US Marine Corps as part of the final stage of development tests, which were recognized as completely successful.
Tests were conducted over the Chesapeake Bay, in total they took 4,5 hours. During the flight, refueling in the air of a helicopter was simulated; there was no real refueling. The test involved a KC-130J tanker.
During the tests, the influence of the aerodynamic track of the refueling aircraft on the helicopter was evaluated, in addition, checks were carried out to connect the fuel rod to the fuel cone and disconnect from it.
Currently, eight CH-53K King Stallion helicopters are in trial operation as part of the United States ILC, the end of the tests and the adoption of the helicopter for service is planned in 2021. In total, the US Department of Defense plans to purchase up to 200 CH-53K King Stallion helicopters.
The CH-53K King Stallion helicopter is a continuation of the CH-53 lineup, which has been produced since 1964. The new modification is the largest and most "powerful" in the family of "Stallions" (from the English. Stallion - stallion). The car first flew in the 2015 year, and the 2018 first serial helicopter passed into trial operation. It is considered the most powerful helicopter in service with the US Army. With a maximum take-off weight of 39,9 tons, it is able to lift a load of up to 12,25 tons on the external sling (the maximum weight lifted on testing is 16,3 tons) or up to 55 people in the cargo hold and move 200 km away. The speed of the helicopter - 315 km / h. Crew from 2 to 5 man (two pilots + 3 arrow). In service with three 12,7-mm machine gun.
The helicopter is equipped with active and passive protection systems - in particular, the armored hull protects the crew and passengers from small-arms fire
weapons
, and active protection systems can protect the machine from damage by missiles.
Despite the fact that the cost of CH-53K King Stallion is comparable to the latest fifth-generation fighter F-35B, the US Department of Defense considers such costs justified.