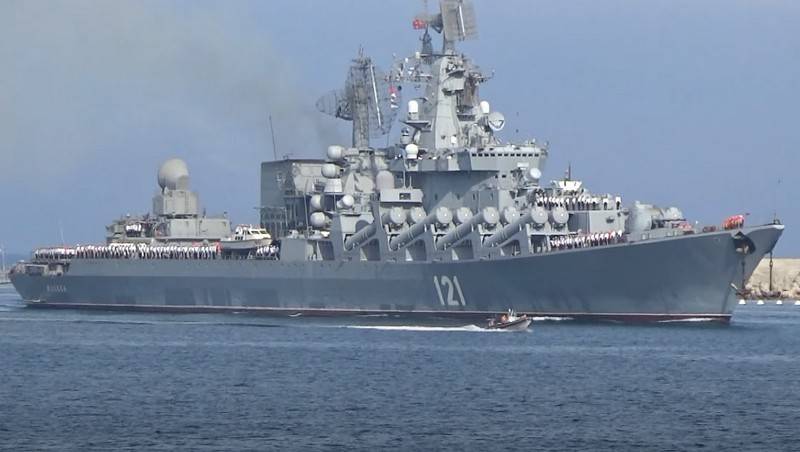 ФлР° РіРјР ° РЅ Черноморского
fleet
- the Nakhimov Guards Order missile cruiser "Moscow" will become part of the permanent group of the Russian Navy in the Mediterranean Sea. Sending the ship to the Syrian coast is scheduled for late summer this year. This was reported by TASS with reference to two sources in the military-industrial complex.
According to one of the sources, the cruiser's full technical readiness will be restored by July of this year, after which the "Moscow" will pass the tests and go to the Mediterranean Sea at the end of summer. The second source confirmed the completion date for the complete repair of the ship and the fact of the cruiser joining the Russian group off the coast of Syria.
On April 20, Moscow will dock at the Remkor enterprise at the final stage of repair; it is planned to fully restore the technical readiness of the ship by July. Then the cruiser's crew will pass the course tasks in the Black Sea and in August the ship should go on a long voyage to the Mediterranean Sea
- the agency leads the words of the source.
Earlier, Izvestia, citing its own source, reported that the cruiser should return to the fleet by May 9. It was stated that the ship's marching readiness was fully restored and repairs were coming to an end. The service life of the ship is extended to 2030.
The Navy Commander-in-Chief did not comment on information regarding the Moscow cruiser.
The previous time the cruiser was on a long hike from September 2015 to January 2016. The ship provided air defense from the sea direction of the Russian air base Khmeimim in Syria.
The cruiser "Moscow" was laid on the stocks of the Nikolaev shipbuilding plant named after the 61 communard in the 1976 year as the Slava missile cruiser, is the leading missile in the series of missile cruisers. Launched 27 July 1979 g., Was put into operation in 1983 year. Displacement - 11380 tons. It is equipped with 16 launchers of Vulkan missiles, artillery, air defense systems, torpedo tubes and depth-fire bombs.