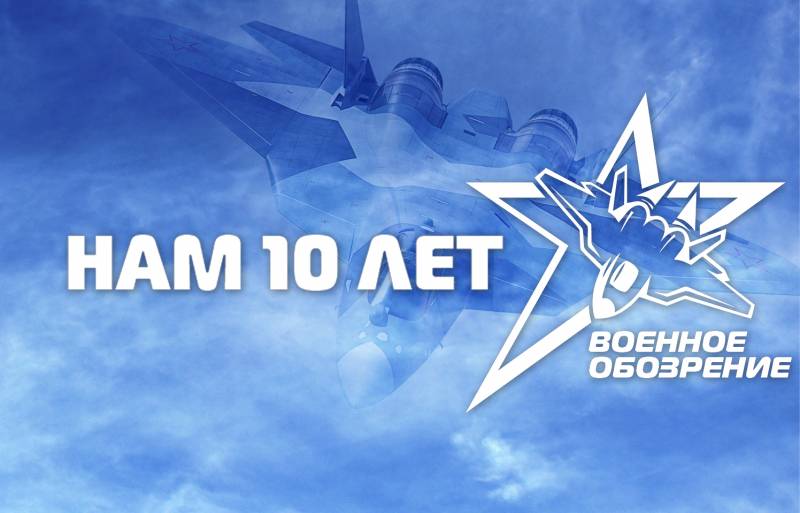 Dear and esteemed our readers! Military Review is sharing with you news of its anniversary date. Today, our information and analytical portal is celebrating its 10th anniversary.
Of course, this is not the age that can be compared with the age of the "bison" of domestic journalism, the media. But if we talk about considering the period of the new Russia, then we think that we can afford to call it an anniversary. In the context of the current speed of development of events in the country and the world, 10 years for the Internet portal is a noticeable period.
And indeed, whatever events we have experienced during this time, dear readers. Born during the period of stabilization after the economic crisis of 2008–2009, Military Review was growing into an audience for which the country's very fate was and remains by no means an empty phrase.
The military theme of our resource was decisive. However, the well-known thesis that the people and the army are united, in the end showed the following: it is impossible, and it's wrong to talk about the army and
navy
without affecting those inextricably linked with the defense and security of our country. And this is the social security of servicemen and members of their families, these are the ups and downs in the economy that are literally affecting each of us, these are geopolitical processes that build their "landscapes", which by definition cannot be ignored.
Over the years, topwar.ru has gathered a group of regular readers. These people are with us, and we, together with these people, as they say, in grief and in joy.
We discussed military-technical topics together, breaking spears on how to change tracked tracks more efficiently and faster for
tanks
and infantry fighting vehicles in military field conditions. We have argued and continue to argue over whether the Russian Navy needs aircraft carriers and helicopter carriers. We tried to determine the question of what caliber of the T-14 "Armata" tank gun may be suitable for modern combat, while being in the mode of putting the T-14 tank itself into service with the RF Armed Forces. Together with you we have seen and experienced the difficult process of reforming the army and navy. We experienced positive emotions from the achievements of domestic engineers, designers, gunsmiths, who created the latest types of weapons, including combat laser and hypersonic ones. We empathized with the relatives of the victims of terrorist acts. We watched the Russian Aerospace Forces inflict crushing defeats on militant militant groups in Syria. Together we felt a sense of grief from losses: Oleg Peshkov, Sasha Prokhorenko, Magomed Nurbagandov, Ryafagat Khabibullin, Roman Filipov, and our other heroic guys.
Together we discuss criticism, which is sometimes directed at us. The quintessence of such criticism is "VO" is not that ... "And" Military Review "agrees with this. Yes, "VO" is not that ... like "not that" for ten years and each of us. Just as nothing can remain at one point in this mortal world, as they say, so our portal cannot be bronzed and unchanged. "VO" follows the path of life, making mistakes somewhere, stumbling somewhere, and making progress somewhere. Just because we consider our magazine alive, and therefore changing, like all living things. Only those who perceive themselves to be perfect do not change. "VO" never perceived itself as ideal, and is not going to perceive it. This is our simple credo: to change without changing the principles of life. It is simply a credo that we never depended on any parties, political and business projects, never "sang along" with the oligarchs, but conducted our information policy. And the purpose of this information policy was one thing - to tell the truth about what is happening in the country and the world, to raise the themes of patriotism, and not in that superseded version, when they try to consider patriotism not love for the Motherland, but anything that is presented as a feeling, but that which is the desire to see your country in prosperity, security, justice, love. Military Review knows what real patriotism is and firmly stands in its position.
We thank again and again our readers who remain with us, who have responded to our call to support VO in the context of the pandemic crisis. Recall that the main income of Military Review is advertising placed on the site. With a decrease in economic activity in the country and the world, against the backdrop of well-known problems, the advertising placement activity and its profitability have also fallen. That is why we turned to you, our readers, with
a call for material support
. Many of you have already responded, for which - many thanks. This mite on our part will not remain forgotten.
"Military Review" together with the whole country will overcome the problems. Such is life - there are problems for that, so that they can be overcome by their joint efforts.
Our regular readers will remember about those projects, innovations and changes that "VO" introduced, including as experiments. This is a reflection of ratings with ranks on shoulder straps, these are the so-called "
year old
"Showing how long the user on our site is among the registered.
We, having implemented the function
minuses
for copyright articles, we decided at one time to get away from this. The departure was due to the fact that a faceless minus to the material would not allow the reader to know the opinion of why he did not like the article. To express their emotions, not going beyond the bounds of decency and law, the comment mode was and remains open on the site. By the way, not all modern information resources retain this function, because only its support requires a team of moderators who have to work with thousands of comments per day (
at the moment you have written more 10 million comments
) This is a huge amount of work, which in itself is often criticized by commenters, but without which the comments themselves would long ago become a platform not for discussing the topic, but for clarifying the relationship. Readers know that this kind of contention and disrespect for the interlocutor must be suppressed by deleting comments and "yellow" (and sometimes "red") "cards" for commentators. Without moderating comments, the site would become an expanse for bots and trolls, which, admittedly, are enough now, but which are still systematically detected and displayed first in clean water, and then "behind the ear" - and from the site.
We introduced a "nomination" for
title of best commentator
according to the results of a certain period of time. Some time ago, we decided to abandon the demonstration of the flags of the countries from which they write comments. The reason is that sometimes the flag of a foreign country itself sometimes provokes some readers to want to create a scandal in the comments that cannot be attributed to the topic under discussion, or because many people come from the so-called anonymizers that "stick" virtually any flag and in any case not giving any "geographical" information.
We have repeatedly introduced
design update
creating
night theme
, change of wallpaper, general design. We ran an option
subscriptions
on VO, providing subscribers with analytics and a number of other materials in an exclusive version. At one time, this version of popularity did not gain, but our team is working on its new edition, which, we hope, will appeal to many readers.
How the design of Military Review has changed since 2010: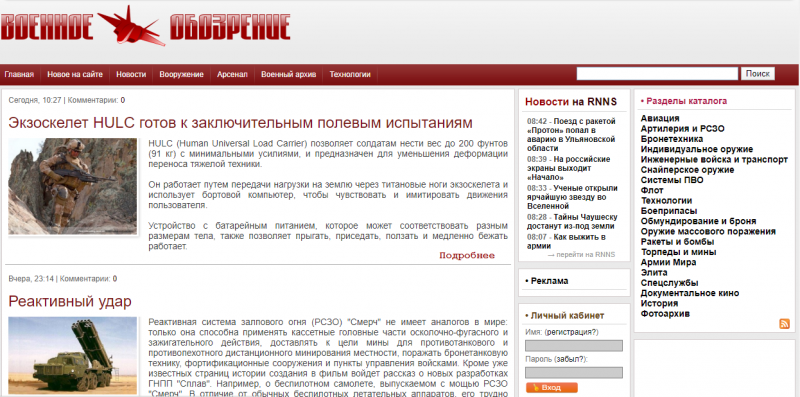 2010g.

Other years (click to view)
We opened new projects that live and develop in parallel with VO. In 2011, we launched the first military-themed aggregator "
Military materials
", in 2013 "
Political review
". Next 2015, the launch of the aggregator for economics and finance "
Economic Review
". Two years ago, in 2018, we launched a new project - "
Reporter
". Many of our readers are active users of these information resources.
In 2019, authoritative British-Israeli project SimilarWeb, Military Review
was recognized
the most visited Internet resource in the world among military-related websites. We managed to bypass this indicator by large resources from a number of countries, including the USA, China, Vietnam, Brazil and others.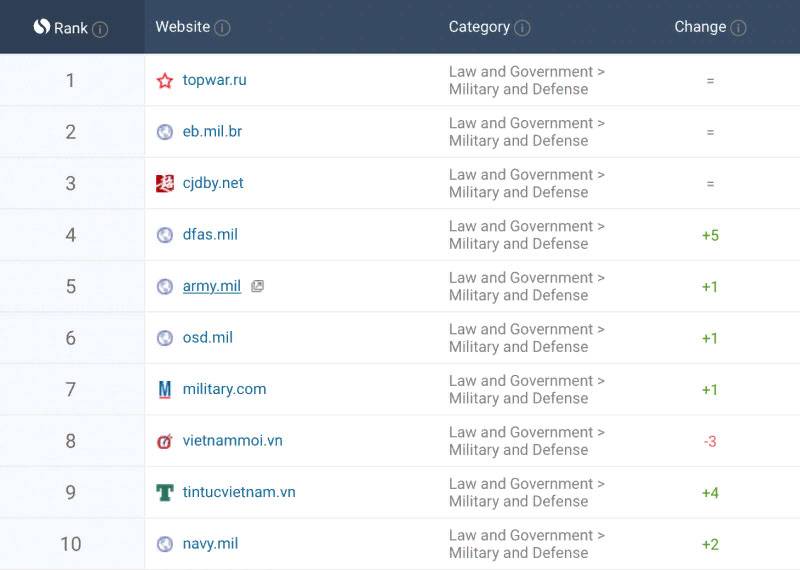 This, frankly, came as a surprise to our team. We will make efforts to adhere to this high bar.
Dear and esteemed our readers! We hope that our work, our joint discussion of the country's life, current events in the world, leave a response in your soul. On the day of the 10th anniversary, we thank you again and again for your active life position, for the constructive criticism that you sometimes express in our address, for your support, for your lively and emotional reaction. Thanks friends!
The 10th anniversary of "VO" is our common holiday with you!