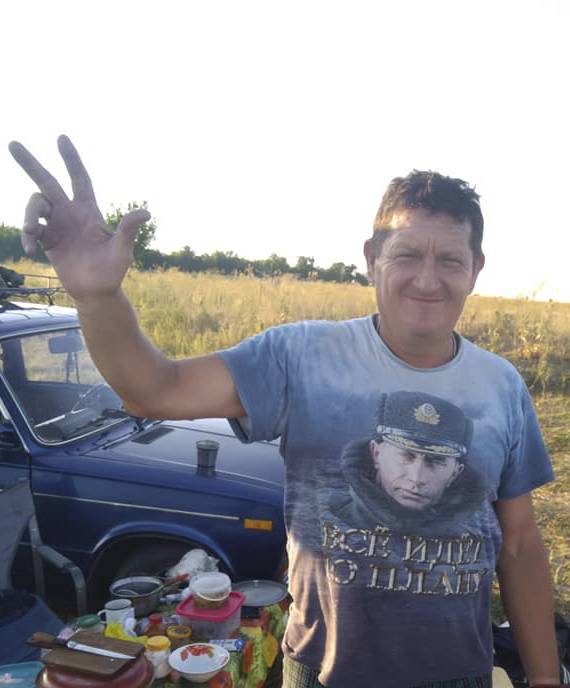 Endless story
One of the most terrible disasters, brilliantly described by Franz Kafka, is to get into the millstones of a bureaucratic machine, stupid and ruthless. At any time and in any country, an official is indifferent to who you are, what your merits are. The letter of the law, most often turning into a calligraphy of crocheting, is much more important to a bureaucrat than a living person.
Serbian Goran Chiric was not lucky enough to be in the clutches of officials of two states at once - Russia and Serbia. Chirich fought in Yugoslavia, and since 2015 - in the famous "Fifteen". He is a citizen of the Donetsk People's Republic. Today, he has been in jail No. 1 of Rostov-on-Don for eight months now. The Russian Themis detained him at the request of Interpol, initiated by Serbia. In the homeland, a man is wanted, allegedly for abuse of power. Curiously, a search request was filed for him in 2019, although he has been living in the DPR since 2015, and therefore could not physically exceed any authority. Not to mention the fact that even during his stay in Serbia, Chirić worked as a bartender, so that his professional activities were hardly coupled with "official powers" ​​and could become an occasion for Interpol's search.
May not survive
Lilia, the wife of Goran Chiric, claims that her husband's health is in danger. A man with asthma who traveled on August 16, 2019 on business to Russia, was detained and taken to a pre-trial detention center, where he is now in terrible conditions. Moreover, according to Lilia Chirich, the penitentiary system for some reason flatly refuses to give the prisoner the medicines he needs. At the same time, the man also suffers from pleural caseoma, which makes him especially susceptible to potential infection with coronavirus.
"For a long time there were no papers from Serbia, then it was as if they were just pulling time. At the moment, in connection with the epidemic of coronavirus, lawyers are not allowed to see her husband. A lawyer from Rostov cannot get to him on the third day. Therefore, I have no information about how he feels, whether he is in order. They don't give medicine to my husband, despite all my complaints. The Rostov pre-trial detention center has its own laws, "says Lilia Chirich. - Before the war in Yugoslavia, Goran worked at a cable factory, by profession, but then everything fell apart, and he worked in cafes and restaurants. He was very much appreciated, as Goran is very hardworking. In general, he is a very responsible person, if he takes up something, then he brings it to the end. In Donetsk, he was offered a job in restaurants as a cook, he is a very good cook, but refused because of asthma. I had to work as a driver - to deliver building materials in a hardware store.
We met on the Internet, then he came to Donetsk, and we started dating. It was the year 2015. We have a kinship of souls, we really feel each other, even at a distance - something hurts him, and my pain starts in the same place. I want to call him, pick up the phone, and then he calls me. From the very beginning, when they began to correspond with him, and later, our friends and relatives were amazed at how we speak, he is in Serbian, and I am in Russian, and we understand each other. We are just one whole ... We are already quite mature people, we just want to live, especially since both are disabled. He is a very good person, the whole family loves him very much. "
At the request of Ukraine?
According to the woman, the actions of the Serbian government may be related to the appearance on the Internet of photos where Goran Chirić is depicted with various
weapons
. After that, Goran got a personal page on the infamous Ukrainian site Peacemaker.
"He has a lot of different photos. He put everything on the Internet, did not listen to me ... There are those where he is with weapons. Later some journalists came from Serbia, talked with the Serbs who were in Donetsk, but Goran did not give an interview, and nobody knows what they wrote there when they left. Most likely, his photo and surname were published, "says Lilia.
Indeed, there are several articles on the Internet that state, including on behalf of the Serb himself, that he fought on the side of the DPR in the legendary Pyatnashka unit. But articles on the Internet and even photos with weapons (which is unseen in a warring republic!) - This is clearly not enough to prove Chirich's direct participation in hostilities. Moreover, in the eyes of Ukraine (most likely, behind all this
history
stands SBU) all supporters of LDNR are terrorists, but in fact there are journalists, doctors, and drivers among them ...
It is probably for this reason that some strange justification was chosen in Serbia in order to attract a militia: abuse of power. Recently, such tricks are used more and more often. Of course, Goran Chirich is far from the first and probably not the last to come from the Balkan Peninsula, on which his own state took up arms through the efforts of the Ukrainian special services. A similar thing happened before: with the commander of the "Jovan Shevich" squad, Bratislav Zhivkovich, with a native of Bosnia and Herzegovina Gavrila Stevich and others. And while not one of them was condemned. Probably, precisely in connection with the fact that it is impossible to prove direct participation in the clashes.
And, probably, if Goran Chirich was in his homeland, this whole trial would have ended in nothing, but in this situation we are talking about uniform insanity in general - the accusation against the Serb is obviously ridiculous. Nevertheless, zealous Russian servants have been holding him as a dangerous criminal for a year now - in jail. Yes, even as they keep: refusing medicines and creating a direct threat to his life!
Live to freedom
The State Duma's deputy Sergei Shargunov, who sent a deputy's request to the Prosecutor General's Office of the Russian Federation, was already interested in the flagrant situation. The department promised to investigate the situation, however, while the check is in progress, Goran Chirich remains in the Rostov casemate and his health does not get any better.
It is hoped that the situation will cause a wide public outcry and Russian justice will come to its senses, and Goran Chirich will safely live to see this day. In the end, Interpol is not in a hurry to extradite Russia to Ukrainian war criminals who travel freely around the world.