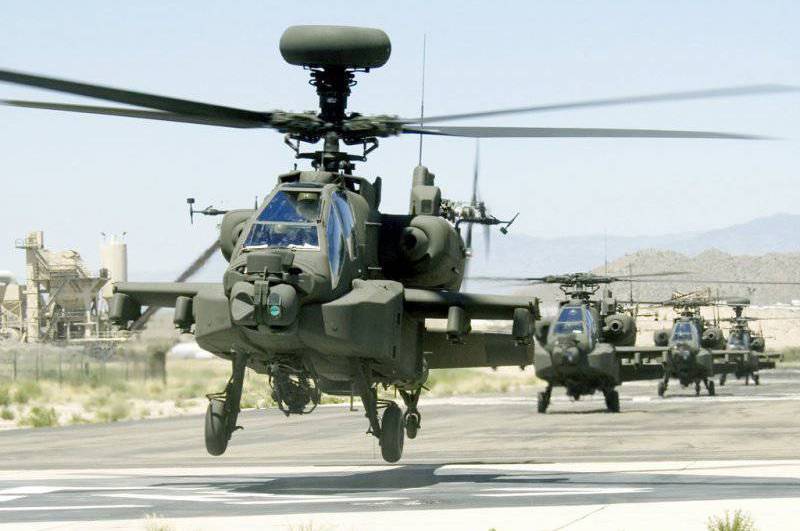 Boeing Corporation supplied the customer with the 500th attack helicopter AH-64E Block III Apache ("Apache"). The production of rotorcraft is carried out at an enterprise in the city of Mesa, Arizona. This was reported by the press service of the corporation.
The U.S. Department of Defense announced the start of mass production of heavy attack helicopters AH-64E Block III Apache in the fall of 2012. The new modification was intended to replace the previous version of the AH-64D Block II helicopter in the US Army. In total, the US military expects to receive, by 2026, 690 AH-64E helicopters, including 643 units modified from previous versions.
The AH-64E modification differs from earlier versions by equipping with more powerful T700-701D engines with digital control of operating modes, it has a better drive of the power plant and rotor blades made of composite material, which allowed to increase the helicopter speed by 46 km / h. The new Apache version is designed on the principles of open architecture, equipped with an improved avionics control system, allowing the helicopter to transport additional payload and perform a flight at a higher altitude in hot conditions. Has the ability to control unmanned aerial vehicles from the cockpit.
In 2019, it was reported on the development of a new modification of the AH-64E helicopter. According to the US military, to combat new threats, a new modification may receive a laser system and "new miniature guided ammunition." In addition, the AH-64 Apache must undergo some design changes - in particular, its tail, wings and stabilization system may change.