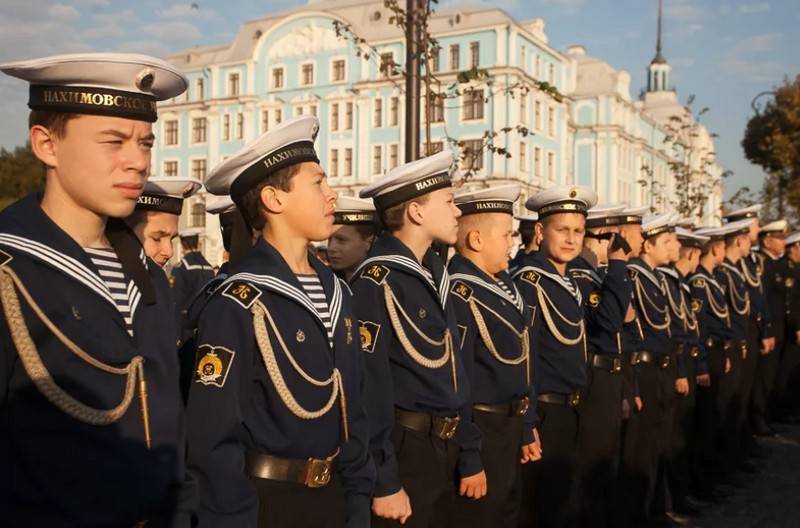 Thirty-one pupils of the St. Petersburg Nakhimov Naval Academy, who arrived in Moscow to train the Victory Day parade, got coronavirus. It is reported by the Ministry of Defense.
According to the report, 31 Nakhimov's infection was detected during preventive testing for coronavirus. A total of 155 pupils of the school were tested, 31 samples gave positive results. At the same time, the military claims that the Nakhimovites did not participate in training in Alabino, and the cause of infection could be the contact of one of the teachers with infected civilians in Moscow.
The condition of all infected people is normal. There are no symptoms of respiratory disease. Body temperature is normal. All of them are under round-the-clock supervision of military doctors and receive the necessary treatment.
- stated in the Ministry of Defense, adding that all infected were transferred to one of the sanatoriums of the Ministry of Defense for quarantine.
The remaining pupils and teachers who were in contact with the infected are quarantined at the place of stay.
It was reported the day before that in the Tyumen Higher Military Engineering Command School, 14 coronavirus infections were detected in XNUMX cadets and one civilian specialist. The school is quarantined.
Earlier it became known that Russian President Vladimir Putin decided to postpone the Victory Parade to a later time, a new date for the parade, as well as the procession of the "Immortal Regiment" will be determined later, taking into account the development of the situation with coronavirus.