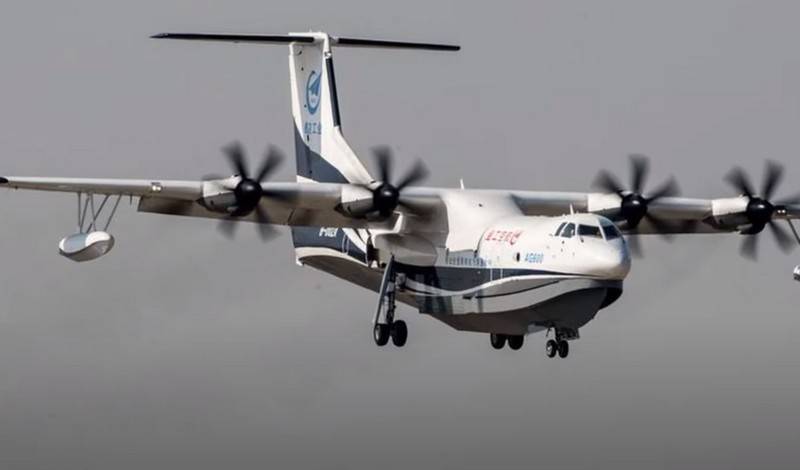 Chinese amphibious aircraft AG600 "Jilong" was first tested by flights over the sea. According to Xinhua, flights began on April 15, all trials were recognized as successful.
For the first time, China experienced the largest amphibious aircraft, the AG600, flying over the sea. Flights were carried out at different heights off the coast of the South China Sea, however, landing and take-off from the sea surface were not performed at this stage. As explained, these overflights were carried out as part of the AG600 training program for take-off and landing tests in the sea, which should take place before the end of this year.
Note that the AG600 has already been tested on water, but all tests that have passed have been carried out in Hubei Province in the reservoir on the Zhanghe River, i.e. in fresh water. Planned tests at sea should give developers data on the impact of an aggressive marine environment on the airframe, its components and assemblies. In addition, the controllability of the aircraft will be checked for various waves at sea.
The Chinese Jilong amphibious aircraft (AG600) has been under development since 2009. Flight tests began in 2017, water tests - from 2018.
The aircraft is designed to extinguish fires and conduct rescue operations on the water. It is equipped with four turboprop engines, is able to stay in the air for up to 12 hours. The maximum take-off weight of the AG600 is 53,5 tons, the hull length is 39,3 meters, the wingspan is 38,8 meters, and the maximum flight range is 4,5 thousand kilometers. Today it is the largest amphibious aircraft not only in China, but also throughout the world.