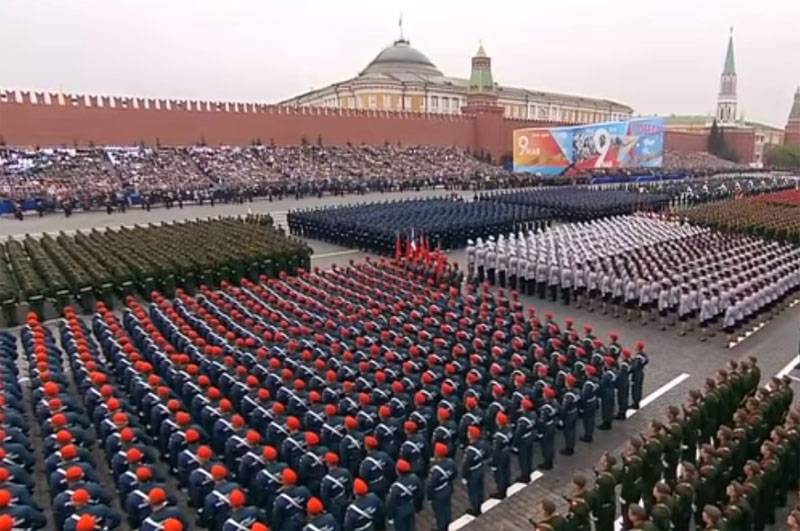 The Polish press reacted very actively to yesterday's decision by Russian President Vladimir Putin to postpone the military parade in honor of the 75th anniversary of the Victory to another date. A whole group of Polish newspapers brought this information to their editorials, and Polish channels also spoke about this.
The materials were published in such large media in Poland as Gazeta Wyborcza, TVN24, Onet, Euractiv Poland, Forsal, PAP, Do Rzeczy, etc.
So, TVN24 reports that in Russia it is necessary to cancel preparations for the parade for almost 15 thousand military personnel. At the same time, a quote is given by the President of Russia, who noted that the date of May 9 is sacred, like the life of every citizen of the country.
The Polish media decided to recall that many foreign leaders had previously been invited to the Victory Parade in Moscow. In particular, they remembered those who had previously expressed their willingness to fly to the Russian capital - for example, French President Emmanuel Macron and Czech President Milos Zeman. But, as they write in Poland, the Czech president "recently reacted harshly to the initiation of a criminal case in Russia to demolish the monument to Soviet Marshal Konev, calling it similar to interference in the internal affairs of the Czech Republic."
In the publication Onet drew attention to the fact that the President of Russia "left open the date of the military parade."
No less active is Putin's decision commented on by Polish readers. Here are a few comments from readers of the Polish media.
Well, what has the opportunity to save a few rubles in a crisis.
Actually, Putin's decision is reasonable. But for many living homo sovieticus, this is an unthinkable thing that causes anxiety and fear. The king has always been stronger than God. And now the king is inferior to a small virus. For Russians, it is unacceptable that something so tiny would determine their fate and make them forget about life.

At the same time, not a single Polish publication said a word about how many Soviet soldiers laid their heads for the liberation of Poland from Nazism. Short memory? ..
But the trolls managed to be noted:
No no! In no case! We need to hold the biggest parade in the Galaxy again!
What a pity. I am so disappointed ...